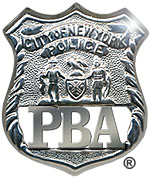 PRESS RELEASE
July 9, 2017
---
Man With Homicidal/Suicidal Mental Issues Who Attempted to Take an Officer's Gun Was Arrested, Charged and Immediately Released by a Judge
PBA President Issues an Urgent Warning to All
An urgent warning has been sent to all police personnel to be alert for Kurdel Emmanuel, 29, who attacked and attempted to take an officer's gun in the waiting area of the 83 Precinct  at 11:15 AM on Saturday, July 8th.   Investigation determined that he is a mentally ill man with homicidal/suicidal issues who indicated that he would have killed police officers had he succeeded in gaining control of the officer's weapon.  Mr. Emmanuel appeared before Judge Loren Baily-Shiffman and despite the obvious danger to himself and others, was released from custody.  
PBA president Patrick J. Lynch said:
"This is a sickening display of carelessness or callousness by a judge who should be fully aware of similarity in the circumstances between this thug's crime and the assassination of police officer Miosotis Familia.   It is unconscionable that Judge Baily-Shiffman refused to remand this homicidal/suicidal man into custody for his own sake and the sake of our members and the public.  We have seen too often the unbalanced act out against NYC police officers with deadly effect.  We are issuing a warning to every member of the NYPD and the general public to be on the watch for this potential killer and to report his whereabouts to the police."
Kurdel Emmanuel is described as a male, black, 29 years old, 5' 8" tall weighing about 160 lbs, black hair, brown eyes who last known address is 1380 East 55 Street, Brooklyn.  A copy of the notice is linked here.  Anyone with information should contact Brooklyn North Detectives at 718-963-5333.