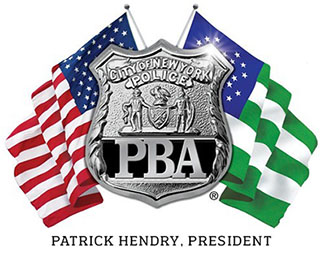 PRESS RELEASE
December 19, 2019
---
PBA President Patrick J. Lynch appoints new Communications Director
The NYC PBA today announced the appointment of current PBA communications team member John Nuthall to fill the role of Communications Director. Effective January 1, 2020, John will lead the PBA's communications and public affairs teams and will serve as the primary contact for all media inquiries.
PBA President Patrick J. Lynch said:
"These are challenging times for New York City police officers. It has never been more critical for the PBA to spread the word about who we are, what we do and what we need to help our members protect New York City. John is a talented communicator and strategic thinker who has immersed himself in the complex realities of the 21st century NYPD, the public sector labor movement and the rapidly evolving media landscape. We are fortunate to have him ready to step in and help grow our communications operation for the future."
John joined the PBA team in 2013 and has carried a diverse portfolio of responsibilities including member communications, strategic communications and public affairs. He is an alumnus of Syracuse University's S.I. Newhouse School of Public Communications with a background in print journalism.
John will be taking over for outgoing PBA Communications Director, Albert W. O'Leary, who is retiring after nearly 18 years serving the PBA. During his thirty-five years as a media relations professional, Al has worked tirelessly on behalf of the men and women who keep New York City running. He served as Deputy Director of Public Affairs for the NYC Department of Sanitation and Director of Media Services for the NYC Transit Police Department under three different Chiefs, including William J. Bratton.  As a member of the Transit Police Command Staff, Al was part of Bratton's team, along with crime fighting genius, Jack Maple, that developed and promoted new, highly successful crime fighting strategies that are still employed today.  After the merger of the Transit Police with the NYPD, he became Director of Employee Communications at MTA NYC Transit where he was the Executive Producer and co-host of the agency's television program "Transit Transit News Magazine."  He was appointed as Vice President of Public Affairs for the agency and served in that position during the chaos and turmoil of the attack on the World Trade Center — the first and only time that mass transit was completely suspended in NYC — when public communication regarding rapidly changing transit service was critical.  He joined the NYC PBA as Communications Director in 2002.
# # #The Police Benevolent Association of the City of New York (PBA) is the largest municipal police union in the nation and represents nearly 50,000 active and retired NYC police officers.