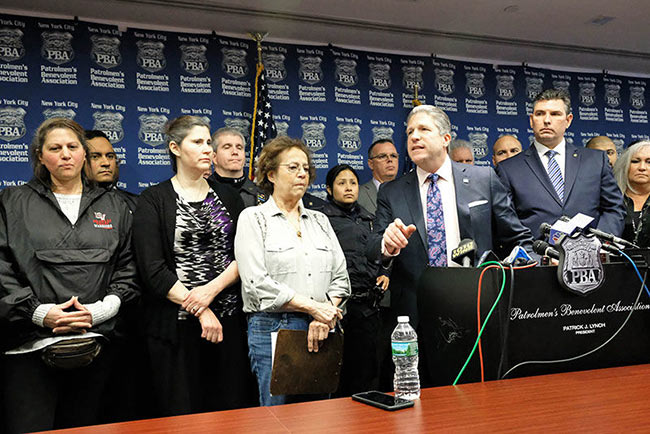 FORTY-SEVEN YEARS LATER, THE TRAGEDY RESONATES: Patrolmen's Benevolent Association President Patrick J. Lynch, at lectern, decries the decision to parole one of the three men who gunned down Officers Joseph Piagentini and Waverly Jones in 1971. To his right is Officer Piagentini's widow, Diane, and the Piagentinis' two daughters, Mary, to her mother's right, and Deborah. 'Letting a cop-killer out of prison is a betrayal,' Diane Piagentini said.
Her voice breaking, the widow of a police officer assassinated in 1971 blasted state parole officials March 15 for deciding to release one of the men convicted of killing him.
"We've been betrayed," said Diane Piagentini, 74, whose husband, Joseph Piagentini, and his partner, Waverly Jones, were ambushed and shot to death by three members of the Black Liberation Army. "Letting a cop-killer out of prison is a betrayal to police officers, to citizens in the United States."
Another One Pending
One of the three shooters, Herman Bell, now 70, was granted parole last week. A second, Anthony Bottom, 66, is up for parole in June. The third, Albert Washington, died in prison.
"Herman Bell hasn't changed," Ms. Piagentini said. "He's still an assassin."
Ms. Piagentini and her two daughters, who were 15 months and three years old when their father was killed, appeared March 15 at a press conference at the offices of the Patrolmen's Benevolent Association.
At that event, PBA President Patrick J. Lynch called for the firing of the two Parole Commissioners on the three-member board who had voted in favor of parole, and for the state to reverse the decision.
That may not be possible. Thomas Mailey, spokesman for the state Department of Corrections and Community Supervision, said in a statement, "Under New York State law, the parole board is an independent body regarding all decisions and only the courts can overturn a decision once it has been handed down. Further, in order for board members to be removed, 'just cause' must be demonstrated and a hearing process must be completed.? Disagreement with the decision does not meet the standard of just cause."
Mr. Lynch said the PBA is investigating every possible way of accomplishing its goals.
The mission of the Black Liberation Army was to overthrow the government, but it appeared to spend most of its energies committing robberies and killing cops. It has been tied to the murder of as many as 13 police officers, including five from the NYPD.
Lured Cops Into Ambush
In 1971, the three killers made a 911 call reporting a phony problem at a housing project in Harlem. They opened fire when the officers left the building after checking it out. Officer Jones died immediately. Officer Piagentini was shot 22 times as he pleaded for his life.
The killers were sentenced to 25 years to life, the most-stringent term that could be imposed at the time. Since then the state has created a term of life without parole, which would avoid the parole hearings that come up every two years after the minimum sentence is served. This was Mr. Bell's eighth bid for parole.
"The judge said that if he could he would give them the chair," Ms. Piagentini said as her daughters looked on, one wiping her eyes with a tissue. To parole them, she said, "is to pin a target on the back of every officer."
Mr. Lynch said the PBA's phones had been ringing off the hook with calls from cops outraged by the parole decision. Veterans and rookies both, he said, "they come up with the same word: 'We're sickened by this.'"
'Keep Them Behind Bars'
He said many callers put their expectations this way: "If a mope kills me, you'll take care of my family and the mope will stay behind bars forever."
The two Commissioners who approved parole, Otis Cruse and Carol Shapiro, "need to be canned," he said. "They need to be gone. They've lost their understanding of right and wrong."
The earliest date set for Mr. Bell's release was April 17. He will need to arrange living, counseling and possibly work situations before he can leave prison.
Many officials criticized the parole decision.
Police Commissioner James P. O'Neill issued a statement calling the decision "indefensible. It trivializes and condones the premeditated assassinations of NYPD Officers Joseph Piagentini and Waverly Jones. It also reopens the wounds suffered not just by these heroic officers' relatives, but by the entire law-enforcement community and all of civil society...
"We don't have the death penalty in New York, but there has to be something more permanent than eventually getting released if you murder a police officer. Herman Bell's victims—targeted solely for the blue uniform they wore—can never be paroled from death."