January 28, 2020, 8:47 PM
Police union sues to block charter revision expanding NYPD watchdog's powers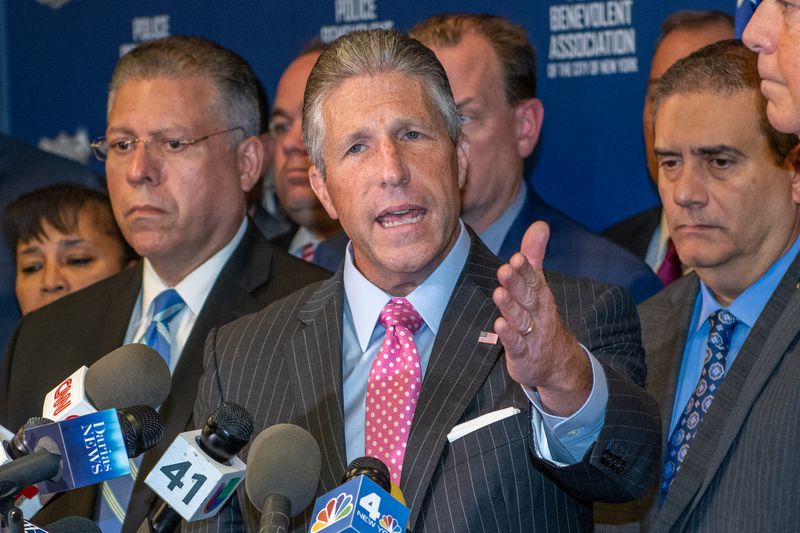 PBA President Patrick Lynch (Theodore Parisienne/for New York Daily News)
The city's largest police union is hoping a judge will block a city charter revision that expands the power of the city's police watchdog group — an issue voters approved in November.
In a lawsuit filed Tuesday, the Police Benevolent Association argued the revision that grants the Civilian Complaint Review Board more power and jurisdiction is illegal because one of its provisions ties the agency's budget to the NYPD's head count.
State law gives the City Council and the mayor the power to set the city's budget, and the November vote illegally puts that power into voters' hands, the PBA argues, adding the entire charter revision should now be tossed.
"New York City taxpayers are beginning to see the true cost of the pro-criminal agenda, but they probably don't realize they will be permanently shackled to a bloated budget for the dysfunctional CCRB," PBA president Patrick Lynch said. "If this is allowed to stand, it will drag down both public safety and the city's finances for decades to come."
The PBA made a push to convince its members to vote against the ballot measure, but it passed by a nearly 50-point margin, with almost 511,000 voting for it compared with about 173,000 against.
"It's disappointing, but not surprising, that the PBA would once again attempt to thwart the will of the people of New York City, and their desire for strong, professional, independent civilian oversight of the NYPD," CCRB chairman Fred Davie said Tuesday. "I am confident the City of New York will prevail in this lawsuit, and the CCRB looks forward to fully implementing the Charter reforms."
Mayor de Blasio said he doesn't think the PBA has a case, and doesn't believe the charter revision violates state law.
"This was the result of a very public charter revision process, everything in it was looked at by the Law Department, obviously, and the City Council lawyers," he said. "It was the will of the people, I think we should just move forward."
The ballot measure adds two members to the board, including one chosen by the city's Public Advocate, increases its subpoena power and gives it the authority to launch an investigation if it's determined police lied during questioning.
The NYPD commissioner will also have to provide the CCRB with a written explanation if he doesn't follow the agency's discipline recommendation.
With Anna Sanders