March 4, 2020, 1:06 PM
Suspect in shooting of two Bronx cops indicted for attempted murder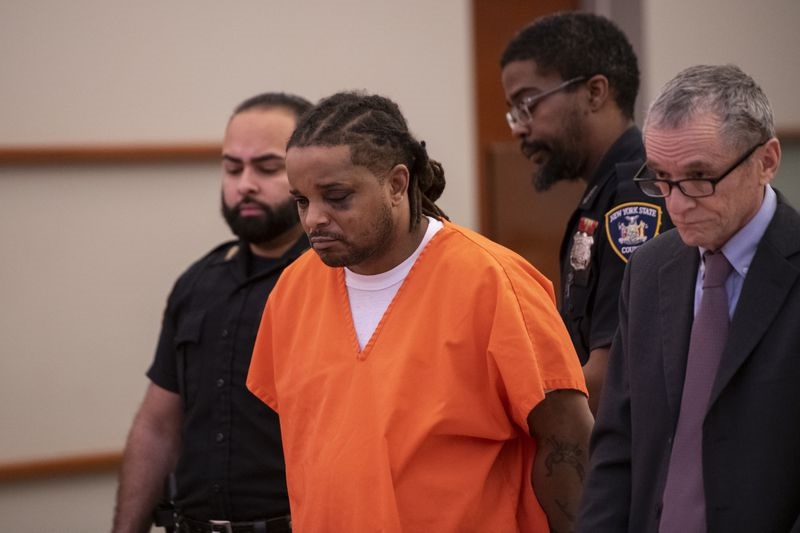 Robert Williams was indicted on attempted murder charges Wednesday for attacks on cops. (Gregg Vigliotti/for New York Daily News)
A man accused of shooting and wounding two Bronx cops in about 12 hours was indicted on attempted murder charges Wednesday for the attacks, which the borough's top prosecutor called "an abomination."
During a brief hearing in Bronx Supreme Court, Robert Williams, 45, pleaded not guilty to attempted murder and other charges and was once again ordered held without bail.
William has been in jail since he was arrested for the two-day attack against the NYPD that began about 8:30 p.m. on Feb. 8. The ex-con is accused of shooting at two police officers sitting in a marked NYPD van, hitting one in the chin and neck.
About 7:45 a.m. the next morning, Williams allegedly walked into the 41st Precinct stationhouse and fired at seven NYPD officers, striking a lieutenant in the right arm, before being grabbed by police and taken into custody.
Both cops were treated at a hospital and released.
A grand jury also charged Williams with attempted aggravated assault on a police officer, attempted assault, assault and weapon possession.
Bronx District Attorney Darcel Clark called the attack on cops an "abomination."
"I've never seen anything like this in my lifetime, or in this county in all the years I've been doing this work," Clark said Wednesday. "Basically it was an attempt to assassinate police officers."
Clark lauded Bronx cops for their professionalism, especially after Williams, according to authorities, told officers after his arrest that he would shoot cops again if ever released.
"Even with those kinds of threats, the police personnel went back to work and continued to do their job at the 41st Precinct," Clark said.