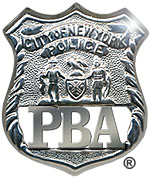 Contact: Joseph Mancini
212-298-9150
PRESS RELEASE
February 6, 2002
---
PBA President Patrick J. Lynch calls on President Bush to help secure raise for NYC Police Officers
PBA President Patrick J. Lynch today appealed to President George W. Bush to help maintain a strong New York City Police Department by making sure its woefully underpaid police officers get the salary increase they deserve.        
"Just as the president in his State of the Union address asked for a pay increase for our servicemen fighting terror overseas, I am asking him to find a way to increase the salaries of New York City police officers, who have been and will continue to be among the very first responders in terrorist attacks against our nation," Lynch said in a statement.
In his remarks in New York City today, the president voiced support for a raise for cops, Lynch pointed out.
Of the $37.7 billion for homeland security in the president's budget, $3.5 billion is targeted for police and other first responders, Lynch noted. This allocation could help fund police pay increases, Lynch proposed.
"The city's officers are paid far less than their colleagues across the country, creating a recruitment and retention crisis of epic proportions," said Lynch, who represents more than 26,000 New York City cops. In neighboring Newark, Lynch pointed out, officers are paid 22 percent more than in New York City.
"Our officers have performed amazingly well on Sept. 11, during the anthrax crisis and the World Economic Forum," he said. "To maintain officers of this caliber, it is essential that we provide recruits and experienced police officers with competitive pay.