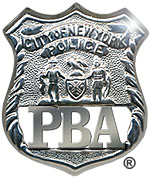 PRESS RELEASE
June 20, 2002
---
Cops quit NYPD by the hundreds — retire by the thousands
Four hundred and eighty one members of the NYPD have resigned during the first five months of this year — 56% more than last year — most having left for better paying jobs, PBA President Patrick J. Lynch announced today.
The PBA projects that 3,810 members of the force will leave the NYPD due to retirement or resignation this year representing an increase of 85% over the department's five year average loss of 2,057 members.
"I'm angry," PBA President Patrick J. Lynch said.  "Police officers are quitting by the hundreds and retiring by the thousands.  Last year, the department lost 3,776 members to resignation and retirement and only hired back 1,648.  That means there are 2,128 fewer crime fighters this year than last and the problem is getting dramatically worse."
The PBA projects that the total loss of trained and experienced personnel in 2001 and 2002 will be 7,586 or roughly the equivalent of the Boston, San Francisco, Baltimore and Phoenix police departments combined.       
"We are losing fully trained and experienced officers at an alarming rate which puts this city and my PBA membership at risk and Mayor Bloomberg and Police Commissioner Kelly have done nothing to prevent it.  The shame of it is that 1,200 of the officers who resigned over the past 16 months could have been retained to patrol New York City's streets if our elected officials and the NYPD had the courage to do more than just talk about solutions.  Our members have worked without a contract for almost two year, and unless New York City starts paying its hero police officers a competitive salary, it will continue to hemorrhage experience and training and the city's safety will be in jeopardy.
"This city is spending tens of millions of dollars on recruiting and training only to have better paying police departments grab the cream of the crop.  With terrorism making policing into a major growth industry, New York City is becoming the nation's police job fair as we lose talent to jurisdictions like the Port Authority Police, Las Vegas Police, the MTA, Nassau, Suffolk and dozens of other jurisdictions around the country.  That money would be better spent paying police officers a competitive salary so they will stay here and patrol our streets."
The PBA predicts that retirements and resignations will actually accelerate before the end of the year due to heavy overtime earned because of the World Trade Center terrorist attack, because of large numbers of NYPD officers who become eligible for retirement this year and because of accelerated retirements at better paying neighboring police departments where they will be recruiting replacements.
The PBA based its calculations on the department's retirement and resignation rate during the first five months of 2002 when there were 1,107 retirements and 481 resignations for a total of 1,588 members to leave the NYPD.
| | | | |
| --- | --- | --- | --- |
| YEAR | RETIRED | RESIGNED | TOTAL |
| 1997 | 798 | 464 | 1,262 |
| 1998 | 743 | 622 | 1,365 |
| 1999 | 930 | 639 | 1,569 |
| 2000 | 1,576 | 738 | 2,314 |
| 2001 | 2,969 | 807 | 3,776 |
|   |   |   |   |
| Five year average | 1,403 | 654 | 2,057 |
|   |   |   |   |
| Jan./May 2001 | 996 | 309 | 1,305 |
| Jan./Apr. 2002 | 1,107 | 481 | 1,588 |
|   |   |   |   |
| Projected 2002 | 2656 | 1,154 | 3,810 |