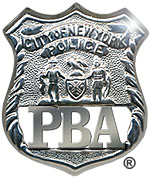 PRESS RELEASE
September 12, 2002
---
Fighting fireman, pugilistic police battle it out for Widows and Childrens Fund and PAL
The Finest and the Bravest – men and women – will lace up boxing gloves for charity in a 13 fight card that will feature police officer Mike Wheeler, of the 60 Pct., and his brother Firefighter Brian Wheeler, of Ladder 170, representing their departments in separate fights at the "Heroes All" boxing tournament at Brooklyn Cyclones Stadium on Sept. 19, 2002 at 7 PM.
Also on the slate are Police Officer Kim Shafidiya of the 75 Pct. and Firefighter Francesca Smith of Ladder 18 fighting for the women's bragging rights in the two departments.
Tickets are $20, $30, $40 and $50 and can be purchased by calling the stadium at 718-449-8497. Be prepared to tell the ticket sellers if you want to sit on the Police or Fire Department side of the stadium. Proceeds go to police and fire Widows and Children's funds; the Police Athletic League and several boxing charities.
Media will have an opportunity to see the fighters in training on Saturday, Sept. 14, 2002 between the hours of 11 AM and 1 PM at the Starrett City Boxing Gym, 1490 Hornell Loop off Pennsylvania Avenue in Brooklyn. Contact coach Dave Siev at 646-210-3262.