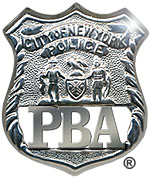 PRESS RELEASE
April 15, 2002
---
PBA Appoints Communications Director
The New York City Patrolmen's Benevolent Association has hired veteran governmental communicator Albert W. O'Leary to enhance their ability to disseminate critical information about the work, risks and economic difficulties of being a New York City police officer, PBA President Patrick J. Lynch announced today.
The appointment of an in-house communications director is the latest in a series of management modernization moves and cost efficiencies initiated by President Lynch since his election as head of the 24,000-officer PBA.
Mr. O'Leary, 51, of Staten Island, has served as the chief spokesperson for MTA NYC Transit, the NYC Transit Police Department and the NYC Department of Sanitation. His appointment to the newly established post of Director of Communications position becomes effective April 22nd.
President Lynch opted for in-house communications counsel because he felt the high-level expertise such a communicator brings is essential to smoothly integrate communications strategy with overall strategic objectives for the union. In the past the union has relied on outside public relations counsel.
"It is particularly important at this time of contract negotiations, a shrinking police force, and an overall gloomy fiscal climate, for the PBA to articulate its role in providing New York City with the finest in police protection and public safety," Mr. Lynch said.
"Police work is a difficult and often misunderstood profession yet one that is highly visible, he continued.  "You can't pick up a newspaper or turn on a TV or radio without hearing about crimes, arrests and the broad spectrum of work performed by New York City police officers. The PBA has established this new position and hired Al O'Leary, a widely known and well regarded media relations professional, to ensure that the work of our members and the challenges they face are properly presented to the public through the media."
Mr. O'Leary said:  "My father retired as a sergeant from the NYPD and my oldest son, Joseph, is today a police officer so I know and understand the difficulties that police officers and their families face. Officer Joe, as we call him at home, would now have a great hook at the PBA, but he opted for a job that pays a fair, living wage and is now proud to be a Port Authority police officer.  In fact, as soon as he realized he could afford to start a family, he proposed to his girlfriend, Sarah.  I look forward to helping the citizens of New York understand the difficulties and challenges that our heroic New York City cops face every day."
Mr. O'Leary served as Vice President, Public Affairs, for MTA NYC Transit since June 1998.   As Director of Employee Communications for the agency from 1995 to 1998, he hosted and was responsible for the production of NYC Transit's award winning cable television program "Transit News Magazine." 
From 1987 to 1995, O'Leary served as the Director of Media Services for the NYC Transit Police Department -- then the nation's sixth largest police department.  He held that position during former NYC Police Commissioner William J. Bratton's tenure as Transit Police Chief.  Prior to 1987, he held various positions at the NYC Department of Sanitation including Deputy Director of Public Affairs.
Mr. O'Leary earned a Bachelors Degree in Communications from SUNY and is accredited in the practice of public relations by the Public Relations Society of America.