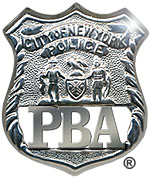 PRESS RELEASE
August 29, 2002
---
NYC PBA names US Senator Charles E. Schumer "Man of the Year"
Senator Charles E. Schumer's unwavering and steadfast support of New York City's police officers and his tireless efforts in the rebuilding of the downtown area since the World Trade Center attacks has earned him the title of the Patrolmen's Benevolent Association "Man of the Year," PBA President Patrick J. Lynch announced today.
Lynch said:
"These have been difficult times for the nation's most overworked and underpaid police officers and Senator Charles Schumer has consistently stood with the PBA in support of our hero officers. He has fought to ban cop killer bullets and to rid our streets of assault rifles. He has delivered federal dollars to New York City that funded the hiring of more police for the city and fought for funding for long overdue raises for our officers. And Senator Schumer has also led the fight to reduce the cost of prescription drugs so important to our active and retired officers. It is our honor to name United States Senator Charles E. Schumer the New York City PBA's Man of the Year."
The honor was bestowed at during the 108th Annual PBA Convention held at the Hudson Valley Resort and Spa in Kerhonkson, New York.