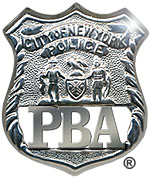 PRESS RELEASE
July 12, 2002
---
NYPD taking easy way out on prisoner escapes
PBA President Patrick J. Lynch today demanded more police officers, better equipment, improved station house design and secured hospital facilities to treat prisoners in order to reduce the potential for escape from police custody.
"Given the serious shortage of police officers, the lousy equipment and horribly designed police and hospital facilities, it is a testimony to the good work of police officers that so few prisoners have escaped," Lynch said.  "We are calling on NYPD management to be fair and honest in their assessment of this problem and not to penalize dedicated, overworked police officers who are fighting against all odds to keep criminals in custody.  It is much easier to suspend a cop than to fix the real problem in a city where hospitals have no secured areas to treat prisoners and where cops have to double park prisoner transport vans and walk felons through neighborhood streets to get them into a station house."
Lynch called for secured parking areas so prisoners do not have to be walked on neighborhood streets into a station house and for certain hospitals to be equipped with secure areas for the treatment of ill or injured prisoners. 
"Handcuffing a prisoner to a bed mixed in with the general hospital population is a formula for disaster," Lynch said.  "The department should survey the existing hospitals, choose a few in each borough and help those hospitals to create a special secured prisoner treatment area for the protection of police and patients alike.  Suspending a cop looks good in the papers but doesn't solve the problem."