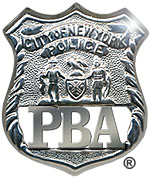 PRESS RELEASE
November 15, 2004
---
Binding arbitration of police contracts begins
The first in a series of binding arbitration hearings which will determine New York City police officers' contract which expired in July 2002 will be held tomorrow at the law offices of Kaye Scholer, 425 Park Avenue, Manhattan, it was announced today by New York City Patrolmen's Benevolent (PBA) president Patrick J. Lynch.
A three-person panel established by the state's Public Employees Relations Board (PERB) will hear evidence and testimony in the salary dispute between the city and its police officers and will decide the terms a contract for the period of August 31, 2002 to July 31, 2004. Veteran labor negotiator Eric Schmertz has been selected as the neutral party while attorney Carol O'Blenes will represent the city and attorney Jay Waks will represent the PBA. By law, the panel must consider comparability to other police pay, the ability of the city to pay and the hazards and skills required for the job.
PBA president Patrick J. Lynch said:
"New York City police officers are dramatically underpaid for the work we do and the risks we take. We patrol the largest, most complex city in the nation that is the number one target for terrorism and yet we earn significantly less than other departments in the New York area and far less than most big-city police departments. Uncompetitive pay has resulted in the loss of thousands of fully trained and highly experienced police officers each year that might have been retained with a more competitive salary and places an additional work burden on those who are left behind. We are confident that the PBA can demonstrate both the urgent need for a fair and competitive salary and the difference between the inability and the unwillingness to pay."
In 2002 a PERB panel awarded a pattern-breaking contract to police officers valued at $50 million more than contracts awarded to other uniformed services. While the city claimed publicly that the award fit a previously set pattern, they objected in writing to the decision calling it "an unjustified deviation from the pattern." It was the first time that the state and not the city had jurisdiction over impasse arbitration of the police officer's contract. Hearing dates have been set for November 16, 19, 22, 30 and December 3, 7, 9, 13, 14, and 16. The hearings are closed to the public and the media.