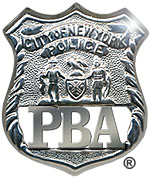 PRESS RELEASE
June 11, 2004
---
DEA and PBA call for judge's removal and criminal investigation
Detectives' Endowment Association (DEA) president Michael J. Palladino and Patrolmen's Benevolent Association president Patrick J. Lynch called for the immediate removal of Queens Supreme Court Justice Laura Blackburne from the bench and for a criminal investigation into her facilitation of the escape from her courtroom of a suspected violent felon being sought by detectives.
DEA president Michael Palladino said:
"Judge Blackburne's actions were shocking but not surprising given her long history of anti-police behavior. NYC detectives had the opportunity to arrest an individual accused of a violent felony in a relatively risk free, controlled environment. Judge Blackburne turned the controlled situation into a potentially dangerous one to the public, the police and the suspect himself by tipping off the individual about the impending arrest and allowing him to elude the police by directing the perpetrator out of the courthouse through a non-public back exit. Her actions allowed the suspect back out on the street and afforded him the opportunity to arm himself and further escape justice.
"Judge Blackburne's anti-police bias has tipped the scales of justice. She has proven herself to be incapable of administering justice in a fair and unbiased manner. We are filing a complaint with the New York State Commission on Judicial Conduct seeking her immediate removal form the bench and we are calling upon the Office of Court Administration for a criminal investigation into her actions which constitute the obstruction of governmental administration in the penal law."
PBA president Lynch said:
"Judge Blackburne's long career has been one of misjudgments which continued yesterday with an act that is clearly criminal obstruction of governmental administration. From her extravagant pink leather sofa to her wasteful spending of taxpayers' dollars for her own comfort and pleasure, she has consistently demonstrated, in an embarrassingly public way, that the only judgment she posses is bad judgment. She is responsible for putting a cop shooter back on the streets only to be arrested again for assaulting a police officer and driving while intoxicated. Yesterday she endangered the people of New York by allowing a suspected violent felon to evade detectives who there to arrest him. This is one judge who should not be sitting in judgment of anything."