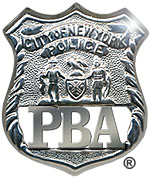 PRESS RELEASE
February 10, 2004
---
No confidence vote — PC should resign
A no-confidence vote by 400 PBA delegates demonstrated that police commissioner Raymond Kelly no longer has the confidence and support of New York City's 23,000 police officers as PBA president Patrick J. Lynch called for Kelly's resignation. The no-confidence vote was precipitated by the commissioner's premature judgment of a recent shooting, the continuation of a draconian disciplinary system and his systemic, behind the scenes effort to prevent NYC police officers from obtaining better jobs in other jurisdictions.
"Our vote today clearly demonstrates that Ray Kelly no longer enjoys the support and confidence of 23,000 of New York's finest," Lynch said. "This commissioner does not afford the benefit of a doubt to the very police officers who risk their lives to make this city safe. He continues to support a disciplinary system that in some cases punishes police officers twice for the same offense and denies the accused officer the right of due process. And this commissioner's answer to a horrendous recruiting and retention problem is to cajole other major municipal police departments not to hire from within the ranks of the NYPD.
"The message that commissioner Kelly has sent to New York City police officers is; do your job and risk your life but you are on your own; you will be punished unfairly and we will prevent you from taking a better opportunity. You cannot lead without the support and confidence of the rank and file, Kelly should resign." Lynch concluded.
Kelly is accused by the PBA of jumping to conclusions in the tragic shooting of an unarmed 19-year old. The PBA also sites a disciplinary system that denies due process to officers and contends that commissioner Kelly used undue influence to curtail the hiring of New York City police officers by both the Port Authority Police and the Metropolitan Transportation Authority Police departments both of which offer far better compensation packages than the NYPD.