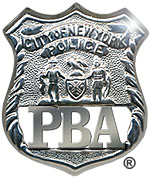 PRESS RELEASE
November 5, 2004
---
Parole denied
Salvatore "Crazy Sal" DeSarno, who murdered police officer Cecil "Frank" Sledge in 1980 while out on parole for a robbery, has been denied parole.
PBA president Patrick J. Lynch said:
"We must send a message that you cannot kill a police officer in New York State and expect to walk out of prison a free man one day. The PBA and the Sledge family adamantly opposed parole for this cold-blooded cop killer and we are pleased that the state has denied him parole. The PBA stands ready and willing to fight against his parole when he becomes eligible again in two years."
Mrs. Linda Sledge said:
"I feel justice has been served in keeping this cop killer behind bars for the next two years. Unfortunately, the law states that he is allowed to apply for parole again in two years. We will do whatever is necessary to make sure my husband's killer is never released from prison. I'd like to thank everyone, especially the retired and active police officers who helped by gathering signatures for petitions opposing the parole of this murderer."
DeSarno was stopped in his car by police officer Sledge as a suspect in a robbery. Without warning, DeSarno shot the officer and then ran over him with the car dragging the officer for a quarter mile and leaving him dead on the street. DeSarno was convicted at trial and sentenced to 25 years to life.