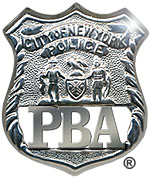 PRESS RELEASE
September 29, 2004
---
Police from around the US Join NYC PBA on picket lines
Police officers from all across the United States are joining NYC PBA members on picket lines in their fight for a fair contract during the Republican National Convention, it was announced today by NYC PBA president Patrick J. Lynch.
A busload of Boston Police Officers arrived at New York's PBA headquarters at midday today where they were equipped with picket signs, protest shirts and given lunch before heading off to picket an event for the convention's keynote speakers at the Bryant Park Grill.
PBA President Patrick J. Lynch said:
"Police officers face the same dangers and take the same risks regardless of where they work and that creates a strong sense of loyalty within the profession. Speaking on behalf of all 22,000 New York City police officers, most of whom are working during the Republican National Convention, we thank our fellow law enforcement officers who traveled from Boston, Las Vegas, Arizona, California and even New Jersey and Long Island in support of our need for a fair contract. We look forward to standing shoulder to shoulder with our brother and sister officers on the picket line."
Boston Police Patrolmen's Benevolent Association president Thomas Nee said:
"We are here to picket with our New York brothers-in-arms because of our belief that police officers should be properly compensated for the dangerous and demanding job that they do."
The NYC PBA began informational picketing during the setup for the RNC at Madison Square Garden on July 19th and has done informational picketing a Mayor Bloomberg's public events since. New York City police officers have been working without a contract for over two years.