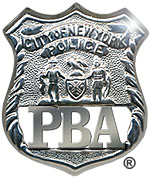 PRESS RELEASE
March 23, 2004
---
Unions call for crime stat audit and crime reporting policy change
Citing more than a 50% rise in felony crime last year in the 10th Precinct where an internal investigation found wholesale misclassification of crime and evidence of artificially controlling statistics in the Bronx's 50th Precinct and PSA 9 in Queens, PBA president Pat Lynch and SBA president Ed Mullins are calling upon police commissioner Ray Kelly to conduct a comprehensive citywide audit of crime and to develop procedures that will prevent police managers from downgrading or ignoring reported crimes.
"New York City's police officers have done a remarkable job of returning our streets to safety, but now, with over 5,000 fewer police officers than we had five years ago, we can no longer hold the line on crime forcing local commanders to artificially hold down the crime statistics," Lynch said.
SBA president Ed Mullins said: "Deployment of police resources is based on where and when crime is occurring so underreporting felony crime makes a neighborhood more dangerous for the community and the sergeants and police officers who patrol the area. Downgrading or ignoring crime reports cannot be tolerated"
Lynch said: "Yesterday's New York Newsday's investigative report on the 50th precinct in the Bronx demonstrates how crimes are being downgraded, intentionally misclassified or simply not recorded. Our own members tell us that they have been conditioned to write crime complaints to misdemeanors rather than felonies because of the abuse they receive from superior officers worried about their careers. The case of the 10th precinct where a 7% decrease became a 50% increase is a shocking example of what is occurring throughout the city in many station houses. It is a truth that is widely known by members of the department and now we have to see if the police commissioner has the courage to face the truth and do what is right for the city of New York."
In 1999 there were 27,305 police officers and in January of this year there are 22,203 representing a loss of 5,102 police officers on patrol in the 76 precincts in five years.