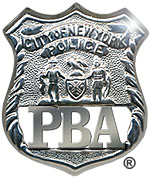 PRESS RELEASE
August 24, 2004
---
Unions set the record straight
Seated at a symbolic "negotiating table" police and fire union leaders discussed a newspaper ad aimed at correcting the Bloomberg administration's misrepresentation of contract negotiations and called on the Mayor to support expedited binding arbitration for police and fire union contracts.
Patrolmen's Benevolent Association president Patrick Lynch said:
"We have been willing and ready to negotiate but this administration's motto is that it's their way or the highway in their demands for givebacks. NYC police officers already work more and longer days for less money than most big city police departments and that's why we have 5,000 fewer police officers patrolling our streets today. There is a recruiting and retention problem in the NYPD that only a fair raise will begin to solve. If the Mayor is not willing to negotiate a fair raise he should at least support expedited binding arbitration to settle this issue with the people who keep New York safe."
Uniformed Firefighters Association president Steve Cassidy said:
"I have been available 24/7 to meet with this Mayor to negotiate a fair wage for firefighters, who have worked faithfully without a contact since May 31, 2002. The city's response has been to drag its feet for over a year before coming to the bargaining table. Now we still have the same offer of 4 percent over 3 years as we did on day-one of negotiations in December 2003. When people around this nation hear the truth about the Mayor's treatment of New York City Firefighters they are shocked."
The Police and Fire Coalition has purchased full page ads (see below) in major daily newspapers to counter the administration's misinformation.