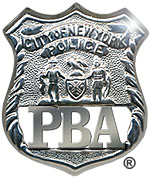 PRESS RELEASE
January 19, 2005
---
NYC PBA opposes parole for cop killer (1)
Russell Carroll, the last living member of a group of four men who were convicted of acting in concert in the murder of police officer Robert Sorrentino, 35, in April, 1980 will appear before the New York State Parole Board next month in his first bid to be released from prison. On Friday, January 21 st, family and friends with the support of the Patrolmen's Benevolent Association and its president Patrick J. Lynch will deliver a victim's impact statement to the board opposing parole along with petitions containing nearly 10,000 signatures calling for Carroll's continued incarceration.
PBA president Lynch said:
"On April 10, 1980, nearly twenty-five years ago, a dedicated police officer named Robert Sorrentino was shot while pursuing a group of armed robbers. He underwent extensive surgery in St. John's Hospital but died from his wounds two weeks later denying his wife and three stepchildren the joy of his presence in their lives. This Friday, I will join members of his family and his partner at the New York State Parole Board to voice the opposition of 50,000 active and retired police officers to the parole Russell Carroll. New York State needs to send a strong message that cop-killers should never expect to walk the streets again."
Mrs. Edna Doyle, sister of police officer Sorrentino said:
"There is no parole for the dead. My family is serving a life sentence without Bobby and not a day goes by that we don't miss him. The judge who passed sentence on Bobby's killers said that if there were a death penalty then, he would have imposed it. We feel that anyone who is convicted of killing a police officer should stay in jail for the rest of his or her life. The sentence should be life without parole."
Jack Dowd, Sorrentino's partner on the day of the shooting said:
"Bob Sorrentino was one of the most dedicated and professional police officers I ever knew. In the hospital, while he was lying in excruciating pain from a 357 magnum gunshot wound, he had the professionalism and presence of mind to give me a detailed description of the shooter. We had chased a group of men who had committed robbery and assault in a local club that day, and they each have to share the responsibility of killing Bob, who was a great guy and great cop. It is my belief that Russell Carroll should die in prison just as his partners in crime did."
Description of the crime: On April 10, 1980, police officers Robert Sorrentino and Jack Dowd of the 101st precinct were on radio motor patrol when the owner of a local club flagged them down and reported that a group of men had robbed and assaulted customers in his club. The officers spotted the suspects in a car and pursued them. The group abandoned the getaway car in a vacant lot by St. Mary Star of the Sea church in Far Rockaway and split up with the two officers pursing them on foot. Officer Dowd had apprehended one of the culprits, Robert Avent, when he heard shots coming from the church parking lot and he called a 10-13 (officer needs assistance) on his radio. Later, at the hospital, police officer Sorrentino gave him a description of the shooter who turned out to be Marvel Marble. Also arrested for the crime were Leroy Williams and Russell Carroll. All four men were convicted and sentenced to 25 years to life. All but Carroll died in prison.
Russell Carroll will have his first parole hearing in February, 2005.