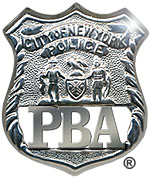 PRESS RELEASE
March 16, 2005
---
NYC PBA opposes parole for cop killer
New York City Patrolmen's Benevolent Association president Patrick J. Lynch will join family members of murdered Transit Police Officer Joseph Keegan as they deliver their victim's impact statement on Friday to the New York State Parole Board that is considering the parole of cop-killer Bruce Lorick. The deceased officer's brother, Frank Keegan, himself a retired police officer from the 34 Precinct, will deliver the statement.
PBA president Lynch said:
"The release of cop-killer Bruce Lorick would be a grave injustice against Police Officer Keegan's family and society at large. During these dangerous times, we must reinforce in the minds of criminals that assaults against police officers will be met with swift justice and with punishment that fits the crime. Absent the death penalty, life imprisonment is a fitting sentence. Bruce Lorick should never be granted parole."
At 5:30 A.M. on June 19, 1980, at the Columbus Circle subway station, Transit Police Officer Joseph Keegan, 40, was ejecting fare beater Bruce Lorick, 22, from the subway when Lorick turned on the officer and grabbed his gun. Officer Keegan was shot once in the head during the ensuing struggle. Police Officer Keegan, who had just days before applied for vested retirement, died two hours later at St. Luke's-Roosevelt Hospital of a gunshot wound to the head.
Transit Police Officer Keegan had served 15 years with the Transit Police Department and was killed just 40 days prior to his scheduled retirement. He was assigned to Transit Police District 1 at Columbus Circle. Two sisters and two brothers survived Officer Keegan, a bachelor who lived in Manhattan who was expected to marry later in that year.
Cop-killer Lorick was arrested hours later in Central Park after a massive manhunt. He was convicted of murder in the second degree and sentenced to 25 years to life and is eligible for parole in June of 2005.