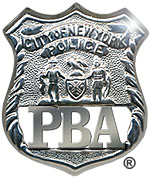 PRESS RELEASE
November 16, 2005
---
PBA endorses Eliot Spitzer for governor
The Patrolmen's Benevolent Association of the City of New York, the nation's largest municipal police union representing over 50,000 active and retired police officers, has endorsed Eliot L. Spitzer for Governor of New York State, it was announced today by PBA president Patrick J. Lynch.
Patrick J. Lynch said:
"Eliot Spitzer is a law enforcement professional who is smart and energetic and who embodies the qualities that police officers value. New York City police officers worked closely with him as an aggressive and hard working Assistant District Attorney in Manhattan. Eliot Spitzer has carried that energy and ability to the office of State Attorney General where he has been a staunch advocate of issues that are important to police officers and working people across New York State. He has fought to make health care and prescription drugs affordable, to protect our environment and has played a critical role in consumer affairs, civil rights, law enforcement and public safety issues. The New York City Patrolmen's Benevolent Association believes that there is not now, nor will there be a better candidate to hold the office of Governor of New York State than Eliot Spitzer."
The PBA is the largest municipal labor union to endorse the Spitzer candidacy to date.