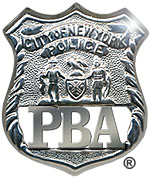 PRESS RELEASE
December 4, 2006
---
DEA and PBA express concerns to Queens district attorney
(Queens, N.Y., December 4, 2006) The heads of the two unions representing the five NYPD officers involved in the shooting last weekend in Queens will meet with Queens District Attorney Richard Brown to seek a complete, thorough and unbiased investigation of the facts in the case.
DEA president Michael Palladino said:
"In meeting with District Attorney Brown, I expect to reach a comfort level that our detectives will have a level playing field. They are entitled to a fair and impartial investigation and due process."
PBA president Patrick J. Lynch said:
"We are meeting with the Queens DA today to stress the need for a fair review of this case that is free of outside political pressures. These five law enforcement officers were risking their lives to rid a community of crime and guns and they have earned the right to a dispassionate review of the facts. We cannot ask the men and women of law enforcement to risk everything for the benefit of our city without promising to judge their actions on the facts and the facts alone."