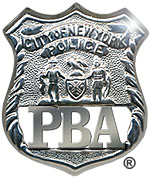 PRESS RELEASE
February 6, 2006
---
Lawsuit to allow NYC police officers to join PAPD
Attorneys representing 34 New York City police officers filed papers today in New York State Supreme Court in an attempt to force the NYPD to release personnel records for police officers seeking to leave the NYPD for the Port Authority Police Department (PAPD) where police officers earn about 30% more. Approximately 150 NYPD officers seeking employment at the PAPD have been placed on hold because the NYPD refused to comply with the PAPD request for some personnel records. The New York City Patrolmen's Benevolent Association is financing the legal action.
PBA, president Patrick J. Lynch said:
"It is unethical and immoral for a employer to prevent someone from seeking to better themselves and their families simply because you don't pay a competitive salary. Port Authority Police earn about 30% more than NYPD officers at top pay which makes it a very attractive job to many of our members. The NYPD has refused to turn over some records for these officers in a blatant attempt to prevent them from leaving the NYPD because the department is suffering a serious recruitment and retention problem. There is a simple solution to that problem and that is to pay NYPD officer competitively with other departments as required by the Taylor Law. That will fix the recruitment and retention problem for the NYPD."
The NYC PBA has also contacted the Chairman of the Port Authority of New York and New Jersey requesting that they consider other methods of acquiring the information needed to hire active NYC police officers for their department while the union takes legal action to have the records released.