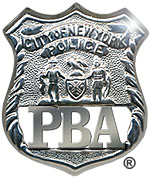 PRESS RELEASE
March 14, 2006
---
Marine Corps Law Enforcement Foundation donates $40,000 towards college education of the P.O. Dillon Stewart's daughters
The Marine Corps Law Enforcement Foundation today presented two US Government Bonds totaling $40,000 in value at maturity for the college education of Alexis Stewart, 6, and Samantha Stewart, 8 months old, the daughters of fallen police officer Dillon Stewart, to the officer's widow. The bonds were presented to Mrs. Leslyn Stewart before 400 PBA delegates at their monthly meeting held in Antuns Catering in Queens.
Marine Corps Law Enforcement Foundation co-founder and Vice Chairman Richard P. Torykian Sr. said: "Service to our great country does not cease when you take off a military uniform. That is why the Marine Corps Law Enforcement Foundation is proud to make this contribution towards the college education of the children of fallen New York City police officer Dillon Stewart to his wife Leslyn. Our children are our future and our most precious asset and they must be cared for. We are honored and proud to be able to play a role in caring for the children of a fallen hero."
PBA president Patrick J. Lynch said:
"Americans take great pride in their law enforcement officers and in the honor and tradition of the United States Marines. On behalf of the 23,000 men and women who risk their lives daily to protect the city of New York, we thank the Marine Corps Law Enforcement Foundation for their concern, their generosity and for their service to the United States of America."
Police Officer Dillon Stewart, 35, a five-year veteran of the NYPD was shot during a car stop in Brooklyn on November 28, 2005. Despite his fatal wound, officer Stewart was able to pursue the shooter's vehicle that ultimately led to the arrest of the alleged killer. Police officer Stewart was posthumously promoted to the rank of detective.