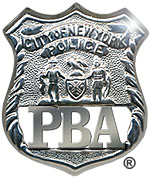 PRESS RELEASE
January 18, 2006
---
Oppose parole for cop killer
Anthony Bottom and Herman Bell, cold-blooded and unrepentant Black Liberation Army assassins and domestic terrorists, who viciously killed two New York City police officers by shooting them in the back as they responded to a call for help, should be denied parole, said NYC PBA president Patrick J. Lynch who will join police widow Diane Piagentini at the Victim's Impact statement before the NYS Division of Parole on Friday, Jan. 20, 2006 at 10:30 AM.
Bottom and Bell were two of three murderers who pumped 18 bullets into the backs of 28-year-old police officer Joseph Piagentini and 33-year-old police officer Waverly Jones on May 21, 1971 as they were responding to a call for help at the Colonial Park Houses at 159th Street and Harlem River Drive.
"We look forward to the day that a person convicted of killing a police officer is given the death penalty or is incarcerated without the possibility of parole," Lynch said. "Herman Bell, in an act so despicable and inhuman that it defies description, took the wounded police officer Piagentini's service revolver from his holster and continued shooting the officer even as he pleaded for mercy. Clearly, Herman Bell and Anthony Bottom deserve no better treatment then they gave and should be denied parole today and forever. On Friday, Mrs. Piagentini and I will call upon the State of New York to send a strong and undeniable message that you can cannot kill a police officer in New York State and expect to walk away a free man one day. These cold blooded assassins and domestic terrorists should remain in jail for the rest of their lives."
Anthony Bottom is now known as Jalil Abdul Muntaquim.