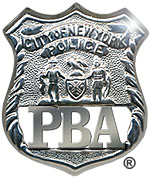 PRESS RELEASE
December 1, 2006
---
Short deliberation clears cops
After a trial that lasted three weeks and jury deliberations that lasted less than two hours, two New York City police officers were acquitted of all bribery and coercion charges in what PBA president Patrick J. Lynch calls a "politically motivated" case by the Manhattan District Attorney.
Police officers George Santiago and James Albertelli of the 13 Precinct, were cleared of bribery, coercion and receiving unlawful gratuities in a quick jury decision.
PBA president Patrick J. Lynch said:
"With nothing more than a bogus complaint and no evidence, the Manhattan District Attorney's office charged two honorable police officers in a successful attempt to generate pre-election publicity. The Manhattan District Attorney accused these officers of selling their shields for very little and today we say that the Manhattan DA sold his credibility for even less, a headline. We are pleased that the jury could see past the sensational headlines generated by this bogus case and cleared these two police officers of all charges."
The officers were arrested in March 2005 and have been on modified duty ever since depriving the city of yet two more uniformed officers on our police-deprived streets.