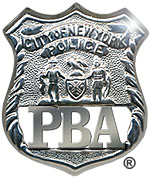 PRESS RELEASE
February 27, 2017
---
Police officers demonstrate unity with overwhelming approval of contract
Nearly twice the national average for contract ratification votes participated.
The members of the Patrolmen's Benevolent Association of the City of New York (NYC PBA) have resoundingly approved the union's proposed five-year contract agreement with the City of New York. The balloting, which was electronically conducted by the American Arbitration Association (AAA,) closed at noon today with 98.03% voting in support of the contract.  A strong turnout and wide margin of ratification demonstrates the strength in unity among PBA members and their unwavering commitment to the union's fight for a fair market rate of pay.
PBA president Patrick J. Lynch said:
"The message from our membership is clear.  They want this union to continue its fight for a market rate of pay and they will remain active, vocal and united until that goal is achieved.  We appreciate the City's willingness to negotiate a contract that recognizes the unique circumstances of NYC police officers and we look forward to returning to the bargaining table very soon to build on that progress."
The AAA reported that over 77% of PBA membership participated in this vote which is nearly double the 40% national average for contract ratification votes.  Of the 24,160 ballots that were delivered to members, a grand total of 18,660 ballots were cast online by the deadline with 18,291 in favor of the contract.