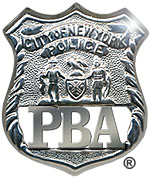 Contact: Patrick Muncie, 212-966-5161
PRESS RELEASE
July 23, 2017
---
NYC PBA announces first round of endorsements in City Council races
Union Representing 50,000 New York City Police Officers Supports Elizabeth Crowley, Felix Ortiz, and Robert Rodriguez in Campaigns for Council Seats
The Patrolmen's Benevolent Association of the City of New York (NYC PBA) today announced its first round of endorsements in the 2017 elections for City Council, offering support to three experienced legislators who have strong records providing support and advocating on behalf of New York City police officers. The union, which represents nearly 50,000 active and retired police officers, has endorsed Council Member Elizabeth Crowley, running for reelection in the 30th Council district in Queens; Assemblyman Felix Ortiz, running in the 38th Council district in Brooklyn; and Assemblyman Robert Rodriguez, running for the open seat in the 8th Council district that covers parts of upper Manhattan and the South Bronx.
The NYC PBA based its endorsements on a number of factors, including the candidates' past support of key issues and their efforts on behalf of members.   
PBA president Patrick J. Lynch said: "New York City police officers have the backs of all New Yorkers. But we can't perform our jobs at the highest level if there aren't leaders out there who also have our backs. The three individuals we're endorsing today – through their words and their actions – have records of public service that are consistent with the goals of our organization. Having strong partners in government is how we will continue to keep crime at record lows, and how we'll continue to fight for fair pay, adequate benefits, and appropriate equipment for police officers. We're proud to endorse these candidates, and we hope New Yorkers will join us in supporting them."
Council member Elizabeth Crowley said: "It's an honor to have earned the support of the PBA. Our police officers risk their lives every day to keep our communities safe. Elected officials and all New Yorkers should never forget their sacrifice and dedication. I am proud to stand with our police officers. Thank you for your support."
Assemblyman Felix Ortiz said: "I am very proud to be endorsed by the finest men and women of the PBA. The protection they provide to the community is vital. As someone that has family members in the law enforcement, I truly understand the sacrifices that they bring to the job."
Assemblyman Robert Rodriguez said: "I am excited and honored to have the support of the PBA. We both hold community policing and the desire to increase community engagement as a top priority. Our police officers risk their lives to make sure our streets our safe. I was proud to be their partner in Albany and will hold that same commitment once elected to the City Council."
The NYC PBA is expected to make additional endorsements in City Council races in the coming weeks.