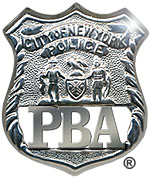 PRESS RELEASE
November 28, 2017
---
NY state PERB finds impasse and appoints a mediator for NYC Police Officer's contract
The New York State Public Employment Relations Board (PERB) — at the urging of the NYC PBA — has concluded that the City and PBA are at impasse and appointed William Conley, the board's Assistant Director of Conciliation, to serve as the mediator to assist negotiations between the City and PBA.  Following a PERB ordered additional 45 days of negotiations in which the City proposed a contract that amounted to 42 months of zeroes for NYC police officers, the PBA renewed its request for impasse to be declared, resulting in the appointment of Mr. Conley who will preside over non-binding mediation between both parties. 
PBA president Patrick J. Lynch said:
"The City has employed all the delaying tactics at its disposal only to offer a package that provided no economic benefits for NYC police officers, who continue to keep the city safe and economically viable with 5,000 fewer police officers than in 2000.  We are pleased that PERB has agreed with us that further negotiations with the City absent the assistance of a third party would be futile.  We welcome the appointment of a professional mediator to assist the parties reach a settlement that both recognizes the substantial contributions of police officers to the success of this city and the significant degree to which they are presently underpaid."
Should the mediation process fail to produce an agreement, the next step would be for both parties to enter binding arbitration before a three-person panel which will decide the terms of a police officer's two-year contract covering August 1, 2017 through July 31, 2019.