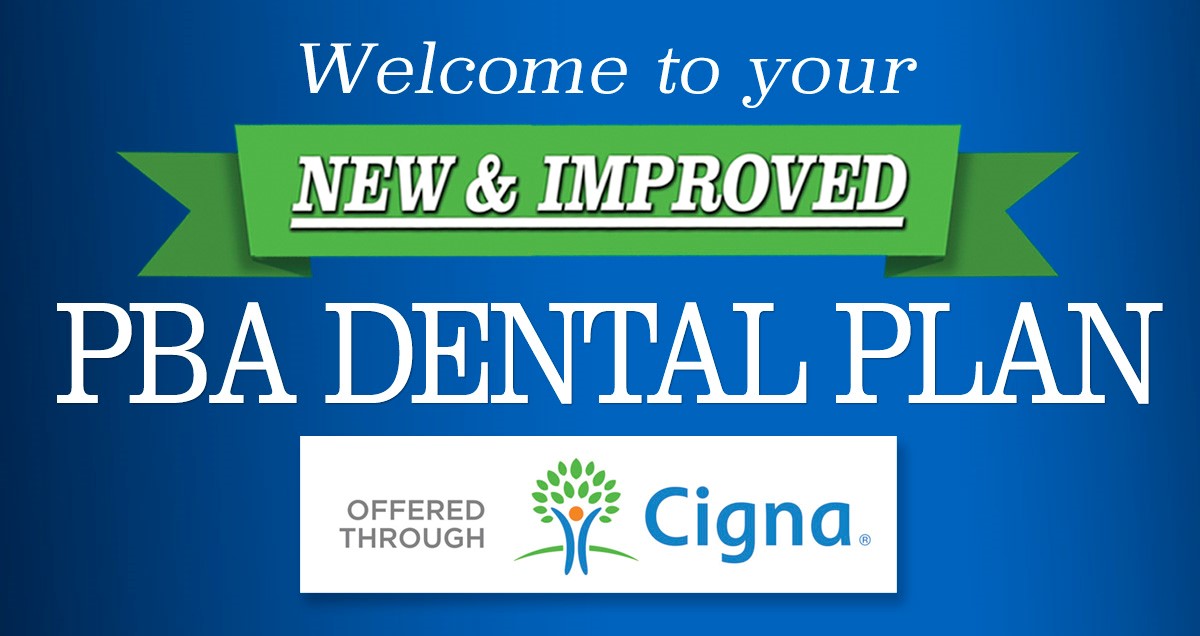 The PBA's partnership with Cigna Dental as our new dental benefits provider is now in effect. For information about coverage and benefits, or to find a dental provider, visit:
For information about the previous dental benefits for services received prior to July 1, 2022, view Legacy Dental Plan Information for Active or Retired members.
Connect with your dental care
How to activate your myCigna account:
Go to mycigna.com or download the myCigna app in iPhone App Store or Google Play on Android
Click Register
Provide name, date of birth and zip code, and hit Next
Choose your subscriber status (both members and dependents can create their own myCigna accounts)
Enter your social security number
Answer some simple security questions
Create a username and a password
With myCigna, you can:
View ID cards
Find and compare in-network dentists based on cost, patient ratings, convenience and professional history
Read real patient reviews and view how many PBA members have seen which dentists
Schedule appointments with dentists who offer online scheduling
Access virtual dental consultations 24/7/365 for dental advice or urgent needs
Estimate costs
Manage claims 
Go cardless
Your new Cigna dental plan does not mean another plastic card in your wallet. Simply give your provider your name and date of birth or your Cigna ID number, which can be found in myCigna. You can also print an ID card from myCigna whenever you need one.
Answers at your fingertips…
Further information to help you use your Cigna dental benefits is available by phone and online. The PBA Health & Welfare Fund staff is available to help with outstanding claims covered under the previous dental plan.
HELP DIRECTORY
For services on/after July 1, 2022 — Contact Cigna:
By phone: 877-505-4158
Online: mycigna.com or the myCigna app
Available 24/7/365
For services prior to July 1, 2022 — Contact the PBA Health & Welfare Funds:
By phone: 212-349-7560
Online: nycpba.org/benefits
Available Monday thru Friday, 8am-5pm
Frequently Asked Questions
Q: What if my usual dentist isn't part of the Cigna Total network?
A: Almost 90% of the PBA's former participating providers are already members of Cigna's Total network. Cigna is reaching out to the remaining providers in an effort to add them to the network. If your favorite dentist isn't participating, call Cigna at 877-505-4158 to request a provider nomination form.
If you choose to see an out-of-network provider, the provider may still file a claim with Cigna for reimbursement. However, the provider may bill you for the difference between their regular fee and Cigna's covered rate.
Q: An in-network provider is trying to charge me out of pocket for a covered service. Should I pay?
A: No, do not pay. Cigna has negotiated discounted rates with providers in its network, and those providers have agreed to accept Cigna's rates as payment in full. The PBA plan has no copays, deductibles or coinsurance for covered in-network services. If an in-network provider attempts to charge you, contact Cigna.
Q: What if I started the course of dental treatment before July 1? Can I continue?
A: All services provided after July 1 are subject to Cigna cover­age. If services were preapproved prior to July 1 but are scheduled to occur after that date, ask your provider to submit a new predetermination request to Cigna to ensure the procedure will be covered. Claims for services provided before July 1 will still be processed and paid by the PBA Health & Welfare Funds.
Q: Do I need a referral to see a dental specialist?
A: No referral required, although members should see an in-network provider in order to save money.
Q: Does the adult orthodontia benefit cover Invisalign?
A: The orthodontic benefit now available to active PBA members and their spouses/partners covers the full cost of traditional braces or it can be applied towards other treatments recommended by your provider, including Invisalign. Charges for all treatments vary from dentist to dentist, so it is advisable to shop around for the best rates available among in-network providers.
Q: Why did the PBA change dental plans?
A: The PBA Health & Welfare Funds are investing in the expanded benefits members have been asking for, including a much larger provider network and better overall quality in the dental plan. These benefits are funded by City contributions as part of our collective bargaining agreement. In 2008, we negotiated "escalators" that automatically increase the City's contribution with every raise we receive. Because of that critical benefit, and because of our careful stewardship of the Funds over the last two decades, we have the resources to invest in improving benefits. This new plan is the benefit you worked for and earned.
Be a smart patient — shop around
For services that carry a fixed benefit amount — like dental implants and some special orthodontic treatments  —  you can make your bene­fits go further by shopping around for the provider who charges the lowest rate. In some cases, you may be able to avoid paying anything out of pocket altogether.