October 27, 2019, 4:06 PM
Police union balks at Charter commission proposal to expand CCRB's powers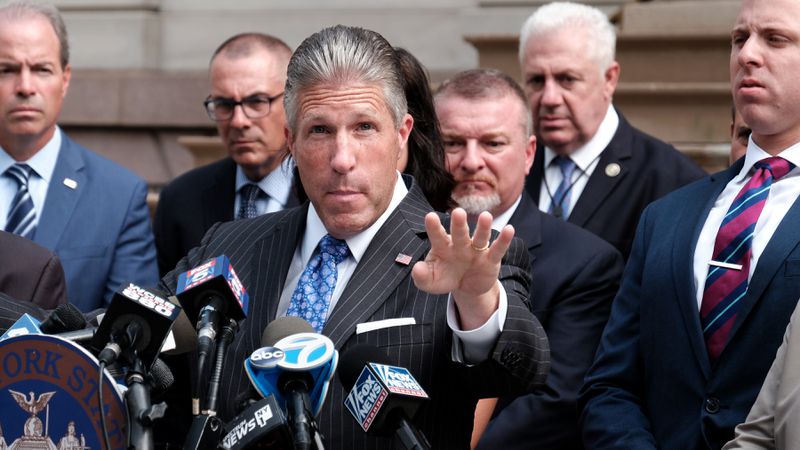 NYPD PBA President Pat Lynch speaks on the steps of New York City Hall in July. (Luiz C. Ribeiro/for New York Daily News)
The city's largest police union is engaged in a massive push to get rank-and-file cops to vote against a Charter revision that'll boost the power and jurisdiction of the city's police watchdog group.
The Police Benevolent Association argues if the Charter Revision Commission proposal is passed, the Civilian Complaint Review Board will be able to get more funding, add two additional members — one of whom will be chosen by the public advocate — increase its subpoena power, and be able to launch an investigation if it's determined cops have lied during questioning.
The NYPD commissioner will also have to provide the CCRB with a written explanation if he doesn't follow the agency's discipline recommendation.
For the last month, the PBA has tacked up posters in local precincts urging a "No" vote Nov. 5 on Question 2.
"The job is dead. Don't let CCRB bury it," one poster acquired by the Daily News read. The poster showed a cloaked figure with a CCRB crest for a head digging a grave. "Turn out & vote NO on Question 2," the poster said.
Another poster read, "Stop the CCRB Power Grab."
The PBA also has been tweeting reminders to the public to vote against the proposal, arguing it'll leave New York City "less safe."
"[The CCRB's] rampant anti-police bias and already-bloated budget have allowed it to collect — and even actively solicit — thousands of patently false or frivolous complaints against police officers every year," PBA President Patrick Lynch said. "Even though 98% of those complaints result in no finding of misconduct, every single one damages a police officer's career. Police officers are already frozen by the endless barrage of second-guessing. Handing this dysfunctional agency more money, more staff and more power will leave the city even less safe."
The Lieutenants Benevolent Association has joined the PBA's fight.
"If these measures are approved, it will further exacerbate the incredibly restrictive environment in which our officers now find themselves ... while attempting to effectively police and protect the citizens of New York City," association President Lou Turco wrote members. "Every action, and every split-second life-and-death decision made in the field will be placed under even stricter and harsher scrutiny by the predominately naive, inexperienced and generally anti-law enforcement investigators staffing CCRB."
A source with knowledge of the Charter revision proposal balked at Turco's comments, claiming if the CCRB gets a budget boost, it'll be able to hire better-trained investigators.
"The proposed Charter changes will increase the efficiency and effectiveness of the CCRB," CCRB Executive Director Jonathan Darche said in a statement. "Should the ballot proposal pass, the CCRB will be able to implement the changes, most of which are effective March of next year."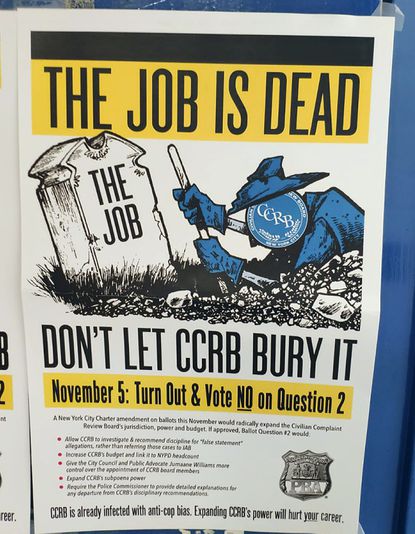 "The job is dead. Don't let CCRB bury it," one poster acquired by the Daily News read. The poster showed a cloaked figure with a CCRB crest for a head digging a grave. "Turn out and vote 'No' on question 2." (Obtained by Daily News)