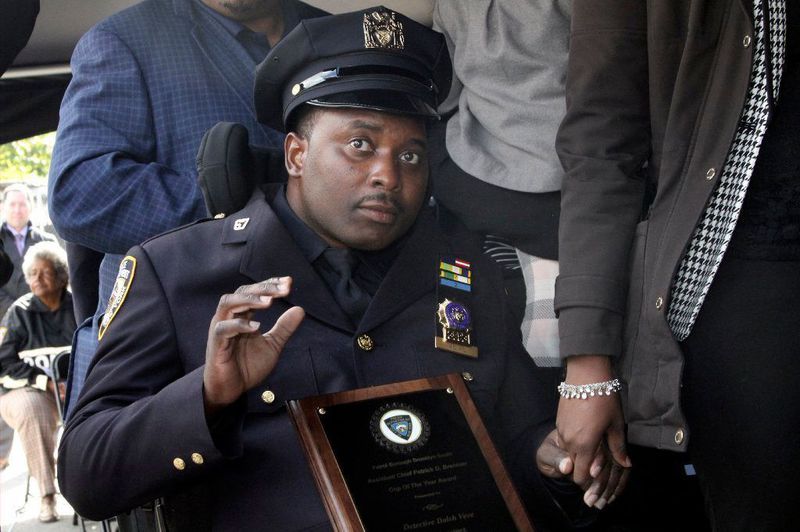 NYPD Detective Dalsh Veve receives the Chief Patrick D. Brennan Award at the 67th Precinct in Brooklyn on October 24, 2018. (Jesse Ward for New York Daily News)
"Ten years was the max he could have gotten and he didn't even get half of that," Veve's wife, Esther Veve, told the Daily News after the teen's release. "I don't think any time would have justified what he did, so for him not to have gotten the maximum was even worse. ... It was a slap in the face."

On Sunday, cops tried to stop Murrell at a red light on New Lots Ave. and Hinsdale St. in East New York about 1:20 a.m. but he sped off, stopping only after he crashed into three parked vehicles , authorities said.

Cops charged Murrell with grand larceny, criminal possession of stolen property, reckless endangerment and running a red light. He awaits arraignment in Brooklyn Criminal Court.

The car was reported stolen from a dealership in Valley Stream, L.I., police sources said.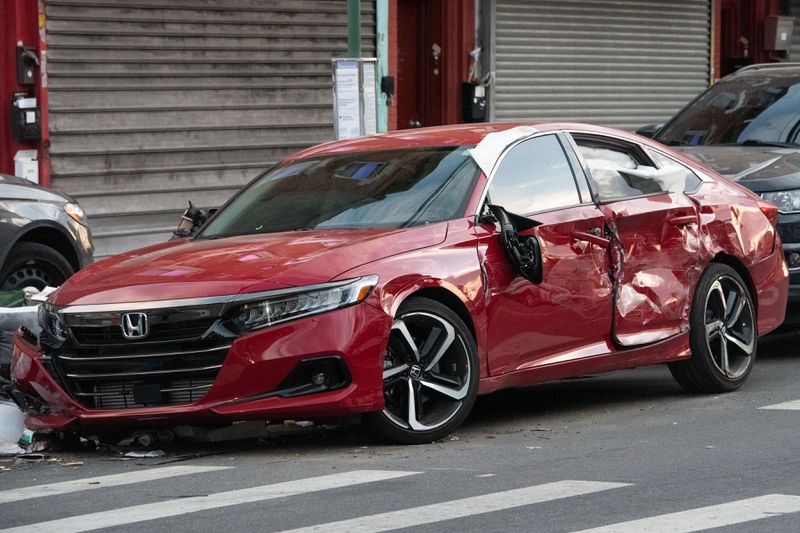 The car in which Justin Murrell allegedly led police on a chase is pictured outside the 75th Precinct station house on Sutter Avenue in Brooklyn, New York on Sunday, May 23. (Gardiner Anderson/for New York Daily News)
Murrell, who was dressed in a Tyvek suit, said nothing as officers led him out of the 75th Precinct stationhouse Sunday night.
Murrell's latest run-in with the law outraged the city's police unions. 
"If Justin Murrell stayed behind bars where he belongs after causing life-altering injuries to Detective Dalsh Veve in 2017 by dragging him for blocks while he fled in a stolen car, he would not be able to hold our Brooklyn neighborhoods hostage with threats of continued violence," said Detective's Endowment Association President Paul DiGiacomo.
"Is anyone surprised? This perp dragged a hero New York City police officer behind a stolen car, paralyzing him. He had an extensive criminal record before that," Police Benevolent Association President Patrick Lynch said. "What will it take for our broken justice system to keep him behind bars where he belongs?"

This past December, the Tunnel to Towers Foundation announced it would take care of the mortgage on the Long Island home Veve shares with his wife and daughter Darshee, who was 2 years old when her father was dragged.