The officers' body-worn cameras show them talking to Sharon Goppy outside the home, discussing her options, including whether she could disable the security cameras outside their home because they are controlled by her husband.
The three of them then stepped inside the house to discuss what she would do.
Goppy said she wanted to take her kids to her sister's house. She and the officers discussed her changing the locks and whether she could get into the safe where the suspect kept his licensed guns.
Then Rondell Goppy showed up.
"Oh, he's coming," Sharon Goppy said almost matter-of-factly. "That's him."
Rondell Goppy was armed with two handguns — including a .40 caliber Glock in his right hand, a camera outside the home showed.
What happened next took 10 seconds.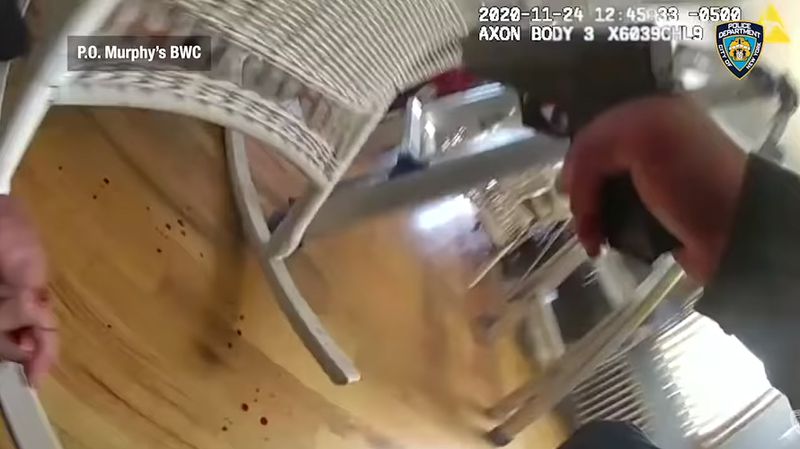 Both cops returned fire. Wells fired nine shots, and Murphy fired 15, cops said. Their bullets hit Rondell Goppy in the chest, side, back and both feet. (NYPD)
Without saying a word, the gunman burst through the front door, opened fire with 11 shots, and charged at Wells.
During the confrontation, a wicker stool was knocked over.
A bullet hit Wells in the right thigh. Murphy, further back in the home, was shot in both hands.
Despite their wounds, both cops returned fire. Wells fired nine shots and Murphy fired 15, and their bullets hit Goppy in the chest, side, back and both feet, police said.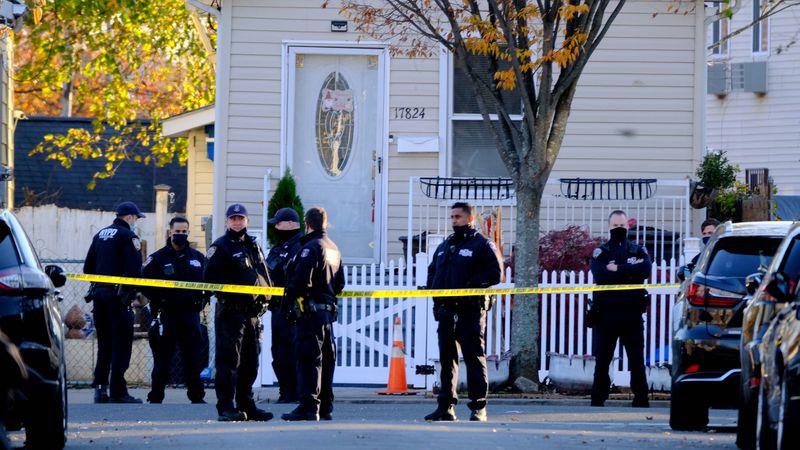 Police investigating the shooting scene in Springfield Gardens, Queens on Nov. 24. (Luiz C. Ribeiro/for New York Daily News)
Big drops of blood fell to the home's hardwood floor, and moans of pain can be heard on the video.
Wells put a tourniquet on his leg. A finger on Murphy's left hand was shattered.
Sharon Goppy, who had fled to the basement, was not hit.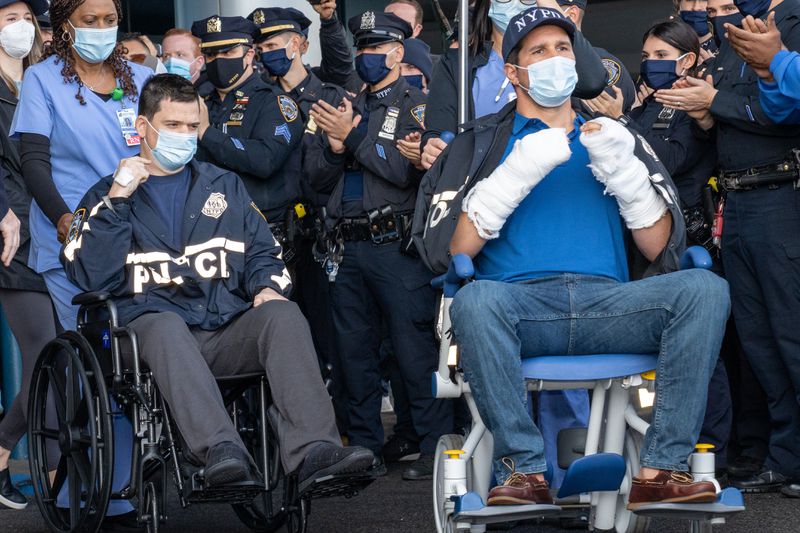 Wounded officers Christopher Wells (L) and Joseph Murphy (R) were released from Jamaica Hospital in Queens on Nov. 26. (Theodore Parisienne/for New York Daily News)
Goppy surrendered his guns following an argument with his wife in July in which he talked about killing himself, said police.
But two psychiatrists later cleared Goppy to return to his security guard job, and he got his guns back.
Sharon Goppy also felt his weapons should be returned to him, and wrote a letter to the NYPD saying at the time that she did not feel her life was in danger.