'I smoke weed regularly," she said, according to prosecutors. "I drank two glasses of wine and dropped my son off in West Hempstead [L.I.], I smoked at the podcast studio. I had two more glasses of wine and had two shots of 1800 Patron, I don't know why they stopped me. Speeding, I guess. They say I hit someone. I heard a thump."
Beauvais was remanded without bail on charges including DWI and vehicular manslaughter. If convicted, she faces 15 years in a state prison.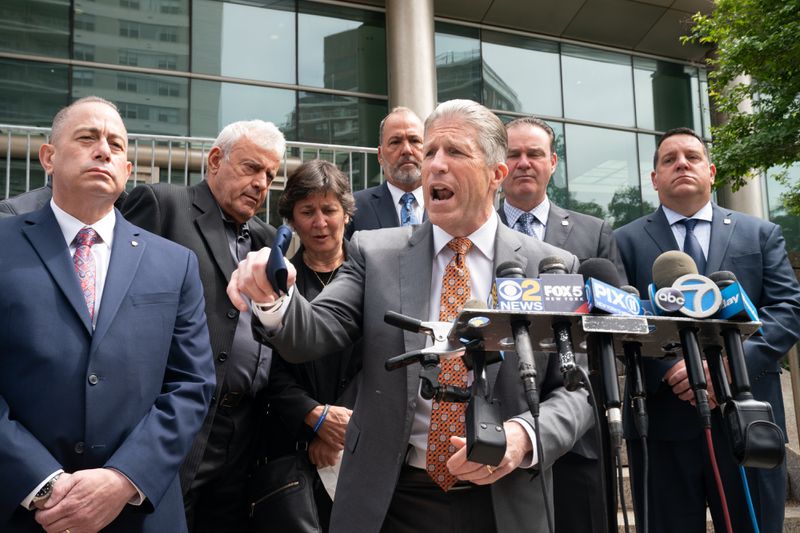 PBA President Pat Lynch speaks to the media as Stavros and Anna Tsakos, parents of P.O. Anastasios Tsakos, look on outside Queens Supreme Court Tuesday, May 25, 2021 in the Bronx, New York. (Barry Williams/for New York Daily News)
Beauvais, 32, entered Queens Criminal Court in a tan jumpsuit with her hands shackled behind her back. As she walked in, members of her family, including her 13-year-old son, stood up and reached out toward her before court officers sternly warned them to stay seated.
As Beauvais exited, she turned back to her family with tears going down her face, and her family members nodded in encouragement before she was walked out of the courtroom.
Also in the courtroom were Tsakos' parents along with a host of police officers and union members from the Police Benevolent Association and the Detectives' Endowment Association.
Prosecutors said Beauvais was speeding and hit Tsakos with such force that his body flung into the air, coming to rest 100 feet away in a grassy shoulder.
One of his legs was severed.
Hours earlier, Beauvais hosted an expletive-laden podcast which opened with music from NWA's classic rap tune "F--k tha Police."
"What bothered me is that we had to go through a trial to prove that George Floyd didn't f-----g kill himself," Beauvais said during the podcast, which she posted on Facebook. "If you were afraid for your life, go be a secretary at Walmart. Do us all a favor. Go open up a day care. But please stop hitting us with the bulls--t excuse that you felt threatened about something."
Police Benevolent Association President Patrick Lynch called her "evil."
"She's been remanded, but let me tell you this, when you look in that courtroom and see that woman, she doesn't look evil, but the words she said the night before were hurtful," Lynch said. "She doesn't look evil, but her actions created evil. She has to answer for what she's done. She has to pay for the consequences that those hateful words and those evil actions caused to a police officer and his family. She knows she did it because she confessed to it. She's in prison now because she ran. She meant to run. She didn't care about any other police officers or the public."
Tsakos is survived by his wife and children, a 3-year-old son and 6-year-old daughter.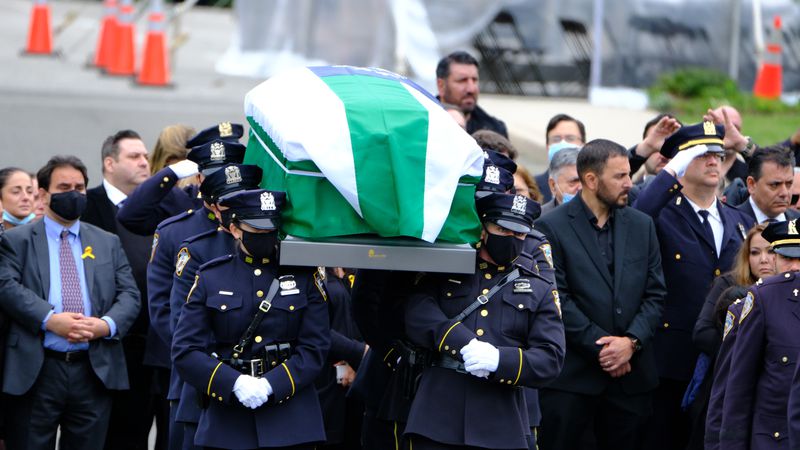 Greenlawn, NY - May 3, 2021 - NYPD Ceremonial Unit Officers carry the casket of NYPD Highway Patrol Officer Anastasios Tsakos followed by his wife Irene and children after Funeral Services at the Saint Paraskevi Greek Orthodox Church in Greenlawn, Long Island. Thousands of NYPD Officers and members from Police forces from all over the country attended the funeral. (Luiz C. Ribeiro/for New York Daily News)