The passenger side of the front bumper was also broken and hanging off the frame, and the rear license holder — which says "HONDA Racing" with an image of a checkered flag — was empty.
In December 2018, Murrell was convicted of assault charges for dragging then-Officer Dalsh Veve for several blocks following a June 3, 2017, traffic stop in East Flatbush.
Murrell, who was 15 at the time of that incident, beat the attempted murder rap, but Veve suffered brain damage when he was thrown off while hanging onto the stolen black Honda Civic.
Although he faced a maximum 10-year sentence, Murrell — who was prosecuted as an adult — was sentenced as a juvenile to just 1-1/3 to four years in detention.  
He was released in March 2020 and his parole was set to expire on June 10, law-enforcement sources said.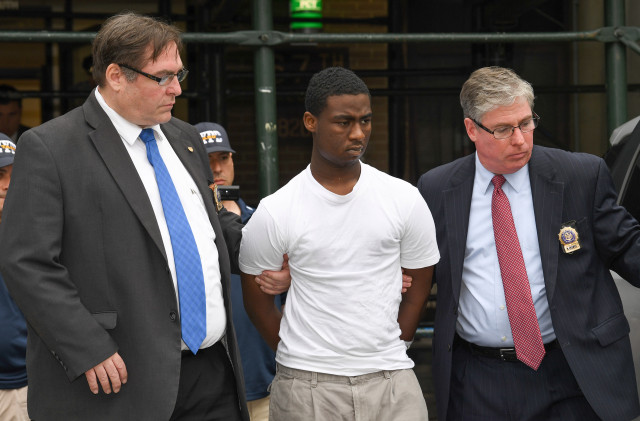 Justin Murrell is walked from the 67th pct. in Brooklyn on June 16, 2017. Paul Martinka
Sources said Murrell has 12 prior arrests, including the Veve case.
Police Benevolent Association President Patrick Lynch on Sunday asked, "Is anyone surprised?" referring to Murrell's latest bust.
"This perp dragged a hero New York City police officer behind a stolen car, paralyzing him. He had an extensive criminal record before that," said Lynch.
"And yet we had a judge and elected officials who thought he should be given yet another chance and put right back on the street. That extra chance could have gotten a police officer or innocent New Yorker killed."
Lynch added: "What will it take for our broken justice system to keep him behind bars where he belongs?"
At Murrell's sentencing in 2019, the union chief blasted his punishment as "wrong and there's no nice way to say it."
Veve was promoted to the rank of detective while still in intensive care following the incident, during which the hero cop shot Murrell in the face.
The president of the NYPD Detectives' Endowment Association, Paul DiGiacomo, said Sunday that if Murrell had "stayed behind bars where he belongs … he would not be able to hold our Brooklyn neighborhoods hostage with threats of continued violence as he did last night in yet another stolen vehicle."
"While the investigation into Murrell's arrest is underway, it is imperative for public safety that he faces serious consequences as it is quite clear he has no intentions of changing his criminal ways," DiGiacomo added.
Additional reporting by Steven Vago