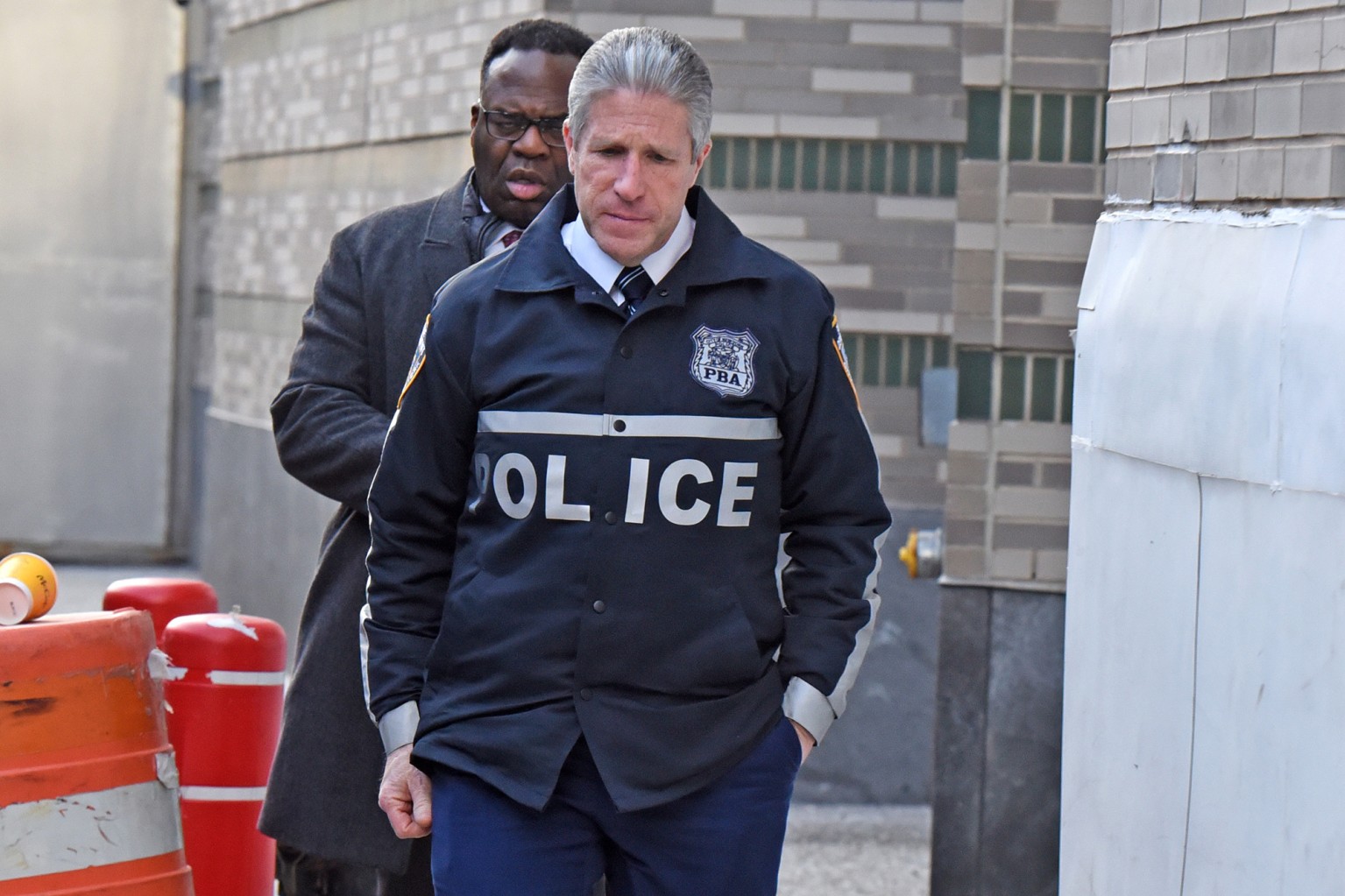 Officer Mora "will live on in the heart of every New York City police officer from this day forward," PBA President Pat Lynch said. Gregory P. Mango for NY Post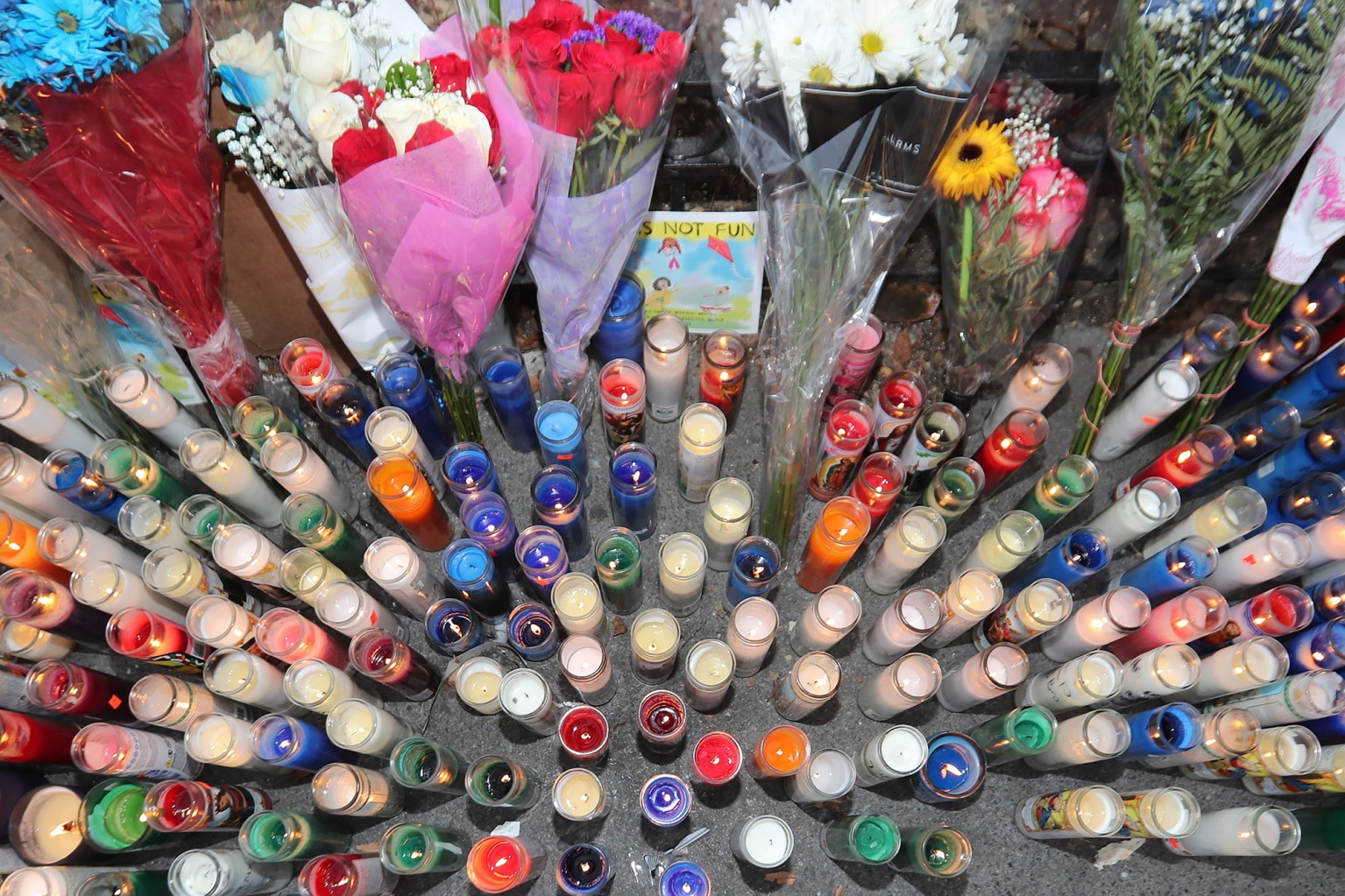 Wilbert Mora and Jason Rivera were the first NYPD cops slain in the line of duty since Officer Anastasios Tsakos was killed by a drunken driver in April. G.N. Miller
Taking him off life support "was a decision his family made," a high-ranking cop said. "Just before 11 a.m. today, [doctors] started harvesting his organs. After they harvested his organs, they took him off life support, and he passed away."
A cop from the NYPD Dominican Officers Association was with the Rivera family at their home when the kin learned of Mora's death.
"They are all crying right now," the cop told The Post. "It's tough, what they're going through. It's going to take some time."
NYPD Commissioner Keechant Sewell sent an e-mail to NYPD cops Tuesday afternoon to let them know of Mora's passing, while also making an official announcement on Twitter.
"Wilbert is 3 times a hero," the commish tweeted. "For choosing a life of service. For sacrificing his life to protect others. For giving life even in death through organ donation. Our heads are bowed & our hearts are heavy."
In her e-mail to the rank and file, she described the department's grief as "incalculable.
"We will stand, salute and shed tears, yet manage to smile as we remember him during the extremely difficult days ahead," the commish wrote.
Mayor Eric Adams on Monday had used the horror shooting as an example of why his illegal-gun crackdown is sorely needed in the Big Apple.
"Wilbert Mora was a hero," Adams tweeted Tuesday. "He served his city, protected his community and gave his life for our safety.
"Our hearts are heavy. Our city is in mourning," added Hizzoner, a former cop. "To his family, loved ones, and brothers and sisters in the NYPD: Your city is standing with you today and always."
Mora, who was single and joined the department in 2018, was taken off life support at NYU Langone hospital in Manhattan.
"You can't help but think of yourself in that situation," a cop said outside the hospital after Mora's death. "It could be any one of us."
Reina Reyes, a neighbor of Mora's at his East Harlem apartment building, where his stricken relatives huddled together Tuesday, lamented, "Even the police aren't safe.
"So what hope is there for the rest of us?"
Mora had initially been taken to Harlem Hospital Center after the shooting. He was transferred to NYU Langone on Sunday so that his organs could be recovered, said LiveOnNY President and CEO Leonard Achan, whose nonprofit group specializes in tissue and organ transplants.
"When Officer Wilbert Mora's family was notified of his passing, his family knew their brave and dedicated son would want to continue to save lives, even in death," Achan said in a statement.
"Officer Mora's final gift was the gift of life to others in need. He was transferred from Harlem Hospital to NYU Langone Health, where we have honored the family's wishes for him to be an organ donor hero, so that he may 'Live On' while saving the lives of others."
Officers lined the roadway when Mora's body was transferred from the hospital to the medical examiner's office down the block Tuesday.
The wakes and funerals for the two slain officers will be held at St. Patrick's Cathedral, the department announced. 
Rivera's wake will be held Thursday at the historic church with a funeral service on Friday followed by burial at Ferncliff Cemetery in Westchester County.
Mora's wake at St. Patrick's will be on Feb. 1, followed by a funeral service the next day and burial at Calvary Cemetery in Woodside, Queens. 
NYPD PBA President Patrick Lynch issued a statement saying, "True heroes never die.
"Our brother Police Officer Wilbert Mora has left us, but he will live on in the heart of every New York City police officer from this day forward," the union chief said. 
"Police Officer Mora showed us what it means to carry to our mission with courage, skill and humanity. His sacrifice will guide us as we continue that mission, but we cannot succeed alone."
Mora and Rivera were shot by career criminal Lashawn McNeil, the department said.
The cops responded to the domestic disturbance call at 119 W. 135th St. shortly after 5 p.m. Friday. McNeil, 47, ambushed the two cops before he was shot and wounded by a third officer at the scene, police said.
The rookie cop who shot McNeil, Sumit Sulan, was hailed as a hero but is still struggling with the nightmarish experience, his parents said this week.
Asked when Sulan could be back on the job, a high-ranking police official told The Post, "It will be a while."
McNeil died of his wounds Monday.
Adams on Friday called the shooting "an attack on the city of New York."
Mora and Rivera, who were assigned to the 32nd Precinct stationhouse, had responded to the Harlem apartment after a woman reported that her "distorted" son was threatening her. The caller told the dispatcher that no one in the home was armed. The mother did not know her son had a gun, law-enforcement sources have told The Post.
"He is threatening to do things to her," according to a police log of the 911 call by Shirley Sourzes. "He is in the house now."
The two officers questioned the woman and her other son but were ambushed by McNeil when they began walking toward a rear bedroom. He burst through the door and opened fire with an illegally modified Glock handgun.
Police are still investigating the deadly shooting and are now trying to determine what motivated the crazed gunman who killed two cops.
"They're backpedaling his steps," the source said of probers. "I'm sure they'll try to get a comprehensive understanding of what drove this guy. At what point does he come into connection with these guns?"
The dead officers were the first NYPD cops slain in the line of duty since Officer Anastasios Tsakos, 43, was struck and killed by a drunken driver on the Long Island Expressway in April.
Condolences also poured in from outside the five boroughs.
"All Nassau County cops grieve with their brothers and sisters in the NYPD today following the tragic loss of Officer Mora, who was murdered in the line of duty," Nassau PBA President Tommy Shevlin said in a statement. 
"This is a devastating loss for the City of New York and its eight million residents — as well as the entire law enforcement family," Shevlin said.
By early Tuesday, nearly $300,000 had been raised for the families of the two cops on the site fundthefirst.com.
Additional reporting by Jack Morphet, Kevin Sheehan, Tina Moore and Georgett Roberts