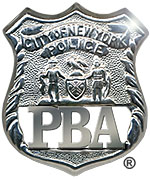 Contact: Joseph Mancini
212-298-9150
PRESS RELEASE
July 19, 1999
---
Cardinal Meets with Charles Schwarz's Family
Cardinal O'Connor met for an hour today with the family of Charles Schwarz – the second cop convicted in the Abner Louima case – and told them he was "deeply concerned" about Schwarz's situation and that he had a "continuing interest" in his case.
The 11:30 a.m. meeting, in a 20th-floor boardroom at Archdiocesan headquarters, 1011 First Ave., was attended by Schwarz's wife, mother, two sisters, a brother, three friends and Patrick J. Lynch, President of the Patrolmen's Benevolent Association.
Schwarz, convicted in Federal Court June 8 of violating Louima's civil rights, is imprisoned in the Metropolitan Correction Center awaiting trial on federal obstruction of justice charges.
"We are gratified that the Cardinal has expressed his interest and concern about the predicament of Chuck Schwarz, who we believe has been wrongly convicted," said Lynch. "We welcome the Cardinal's interest and his prayers."
The meeting was arranged after Schwarz's wife, Andra, wrote a letter to the Cardinal some two weeks ago requesting an audience. Lynch had met separately with O'Connor early this month, shortly after taking the reins at the PBA, and had filled him in on details of the case.
Schwarz' lawyer, Steve Worth, and another attorney also attended today's meeting. Worth had obtained affidavits from three Louima trial jurors stating they would not have voted to convict Schwarz had they known that confessed torturer Justin Volpe had made statements clearing Schwarz of involvement in the 70 Pct. attack.