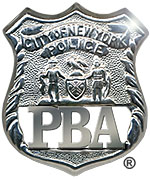 Contact: Joseph Mancini
212-298-9150
PRESS RELEASE
December 9, 1999
---
Condemn Release of Lawrence Hayes
New York City Patrolmen's Benevolent Association President Patrick J. Lynch today condemned yesterday's release from prison of a former black panther convicted in the 1971 murder of Police Officer Kenneth A. Nugent during a robbery in Queens.
In criticizing the release of Lawrence Hayes — an apparent settlement between the killer's lawyers and the state attorney general's office — Lynch was joined by Barbara Nugent, the officer's widow.
Mrs. Nugent said:
"I had to be both father and mother to seven children and suffer the loss of my husband almost 30 years ago because of this man," Mrs. Nugent said. "I think he should remain in prison where he belongs."
Lynch said:
"At least his widow should have been given the opportunity to argue against it before they set him free. This PBA, too, should have been able to make its case against release. Now Lawrence Hayes is free to kill again."
Hayes had been paroled before and was free for about seven years until April 1998, after he committed a parole violation and, through a lobbying effort by the PBA, was returned to prison.
He was sentenced to death in 1972 after killing Nugent in a botched robbery attempt at a luncheonette on Hollis Avenue in Middle Village, Queens. He escaped execution after the state's death penalty law was declared unconstitutional.