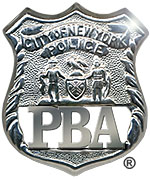 Contact: Joseph Mancini
212-298-9150
PRESS RELEASE
August 17, 1999
---
President's statement about Charles Schwarz
There is an innocent police officer in jail today. You all know his name, Chuck Schwarz, and I am here with his wife and family to call attention to the grave injustice that has been done to him. The PBA is calling for Chuck Schwarz's immediate release on bail and a full and thorough reinvestigation of his case.
We also call for the U.S. Attorney for the Eastern District to review his case and start the process that we know will lead to correcting this miscarriage of justice and making Chuck a free man again. He's been in prison for about two months now, and any day he spends behind bars is one day too many.
From the beginning, the evidence in this case has always pointed away from Officer Schwarz being in the bathroom at any time during the processing of Abner Louima. This is a case about one isolated, horrific act by one single police officer. People with a political agenda have fanned the flames of this incident to the point where an innocent man is now being punished beyond belief.
Also from the beginning, the PBA has sought the truth in this case. In a statement issued by this union on Aug. 15, 1997, we urged each and every officer with any information to come forward – and many did and ultimately testified at the trial.
From the inception of this case, however, the government has had information from at least two witnesses that Chuck Schwarz was nowhere near the bathroom.
The PBA has one priority in this case: to see that Chuck Schwarz is released from jail immediately and ultimately vindicated on all charges. We will take his case to the highest federal official possible, starting with the U.S. Attorney for the Eastern District, and all the way up the ladder to the White House if necessary until we see that this innocent police officer is free again.