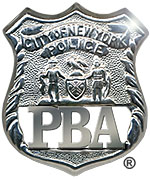 Contact: Joseph Mancini
212-298-9150
PRESS RELEASE
July 9, 1999
---
Miscarriage of Justice
Patrick Lynch, President of the New York City Patrolmen's Benevolent Association, said today that the scheduled surrender Monday of two police officers to begin serving sentences in the Washington Heights radio case is "one of the worst miscarriages of justice in the city's history."
In a communication issued to all 27,000 PBA delegates and members, Lynch urged cops and others to show their support for the officers who are scheduled to appear in Part 86 of State Supreme Court, 111 Centre St., at 9 a.m. After the hearing, two of the cops, convicted of abusing their authority while attempting to recover a stolen police radio in a 1990 incident, are scheduled to be remanded to prison.
"Although they have lost their jobs because of their convictions," Lynch said, "these officers are truly the victims of a grave injustice and we still consider them brother and sister officers. They were only doing their jobs and doing them well."
Two officers, Orlando Rosario and John Devito, face prison terms. Rosario has been sentenced to from 1-3 years and Devito to 16 months. A third officer, Myra Schultz, is scheduled to be released on probation. A lieutenant, Patricia Feerick, is in a hospital having a baby and faces a two-year sentence at a later date.
"This is a grave miscarriage of justice," said Lynch.