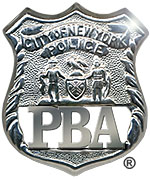 Contact: Joseph Mancini
212-298-9150
PRESS RELEASE
August 18, 1999
---
PBA commitment to Charles Schwarz
Statement by PBA First Vice President John Puglissi in response to statements by Lt. Eric Adams
"The PBA has a moral, legal and contractual obligation to Charles Schwarz, as it has to all its members, to provide legal counsel and defense through all the stages of the criminal justice system, including the appeal process. (It is only in cases where the incident occurred off-dutythat the contractual obligation ends after arraignment.)
"Any suggestion that the PBA would fail to provide similar support to an African-American or Latino police officer is totally false and an insult not only to this dedicated union but also to the intelligence of the public and PBA members of any color.
"Our obligation to provide this support becomes especially acute in Chuck Schwarz's case, where our reading of the evidence is that a grave miscarriage of justice has been perpetrated and an innocent man is in prison.
"The PBA leadership has correctly decided that we should defend his case with all the resources at our disposal, and we intend to do just that."