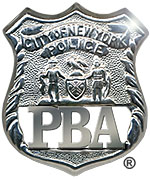 Contact: Joseph Mancini
212-298-9150
PRESS RELEASE
July 21, 1999
---
PBA's position on new drug screening process
The P.B.A. fully supports the Department's policy of zero tolerance for illegal drug abuse. The P.B.A. believes that police officers should lead by example. The P.B.A. believes that police officers who betray the public trust by intentionally abusing illegal controlled substances should be disciplined.
But like every other lay person, we expect that the foods, cosmetics and health care products that we purchase in our local grocery stores do not contain illegal drugs. We expect that the various state, city and federal agencies that regulate the quality and distribution of the goods that we buy have seen to it that they don't contain illegal drugs.
We are not scientists and doctors. We are police officers. To expect police officers to read a list of ingredients on a bag of snack food, many of which are named in chemical terms, and then to determine whether those chemicals might contain "derivatives" of the hundreds of controlled substances listed in the Public Health Law, most of which are defined in chemical terms, is to ask the impossible.
Punishing police officers because they rely on a manufacturer's representation that its product has no illegal drugs does not promote the zero tolerance policy. It just injects arbitrariness into the police disciplinary process and unfairly punishes hard working, honest public servants for their inability to perform derivative chemical analysis in the aisles of their local stores.
Under the terms of this interim order, a police officer can be terminated for eating foods cooked in the "wrong" oils at a restaurant.
A far more fair approach would be to list the ingredients which, in the Department's opinion, do contain derivatives of controlled substances and direct that members of the service avoid those substances.
The Department should in conjunction with the P.B.A. to create a clear set of guidelines that the average person can understand.