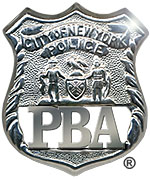 Contact: Joseph Mancini
212-298-9150
PRESS RELEASE
November 29, 1999
---
Yuletide Shopping Spree at F.A.O. Schwarz
The children of New York City police officers slain in the line of duty will be treated to an hour-long shopping spree on Sunday evening, Dec. 12, at the world famous Manhattan toy store, F.A.O. Schwarz.
The tab for this Christmas bonus – in which each child will be able to select $150-200 worth of toys – is being picked up by the Federal Law Enforcement Foundation Inc., a group of business and finance leaders that helps law enforcement officers and their families in times of need. Anthony Bergamo is Chairman of the Foundation.
The event was arranged by the New York City Patrolmen's Benevolent Association. In a letter to the widows and children announcing the shopping spree, PBA President Patrick J. Lynch, said: "We are extremely grateful to the Federal Law Enforcement Foundation for this generous demonstration of the Christmas spirit. I hope that their gesture will bring joy to you and your loved ones during the holiday season."
F.A.O. Schwarz, on Fifth Avenue between 58th and 59th Sts., will open its doors exclusively to the widows and children between 8:30 and 9:30 p.m. on the evening of the event.