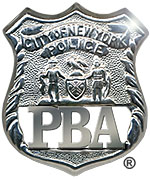 Contact: Joseph Mancini
212-298-9150
PRESS RELEASE
January 10, 2000
---
Hero Police Officer Steven McDonald, Andra Schwarz visit Louima defendant Charles Schwarz in prison
Steven McDonald, the hero cop who was paralyzed by a bullet fired by a juvenile offender in Central Park 1.5 years ago, is scheduled to visit Charles Schwarz, the police officer he believes has been wrongly imprisoned in the Abner Louima case.
McDonald, who has since been promoted to detective, will accompany Schwarz's wife Andra in the visit at the Metropolitan Correctional Center, 150 Park Row, where Schwarz has been held since his conviction last May on federal charges that he violated Louima's civil rights.
McDonald is scheduled to arrive at the Center at about noon and to leave at about 3:30 p.m.
"I am coming to see Chuck Schwarz to show my support for him as a fellow police officer," McDonald said. "I firmly believe that he is innocent and that his imprisonment is a miscarriage of justice."
The visit comes exactly a month after Justin Volpe was sentenced to 30 years in the case. At his sentencing, Volpe said on the record in open court that Schwarz was not in the 70 Pct. bathroom with him during the incident and was in no way involved.