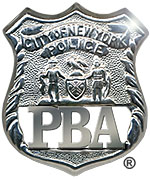 Contact: Joseph Mancini
212-298-9150
PRESS RELEASE
September 7, 2000
---
PBA Endorses Rick Lazio for Senate
Patrick J. Lynch, President of the 27,000-member New York City Patrolmen's Benevolent Association, endorsed Rick Lazio's candidacy for the United States Senate today (Thursday, Sept. 7), calling the Suffolk County Congressman a "true friend and supporter" of New York City police officers.
Lynch announced the endorsement at a 10 a.m. press conference on the steps of City Hall.
With Lazio standing by his side, Lynch cited as one reason for the endorsement the Congressman's pro-law enforcement voting record. "We are impressed with Congressman Lazio's pro-law enforcement record in the House of Representatives," Lynch said. "From his death penalty support to Brady Hill votes, he has been a true friend and supporter of our cops."
"I am so honored to have earned the endorsement of the tens of thousands of men and women who serve the community as New York's Finest," said Lazio, a former Suffolk County Assistant District Attorney.
"As a former prosecutor, I am proud of my record as a strong supporter of law enforcement — from common-sense gun control measures like the Brady Bill to increased funding for community policing to new laws combating online crime. And I'm proud of the support of the police officers who serve on the front lines every day to protect the residents of New York City."
Lynch said: "Congressman Lazio, being from Suffolk County where cops make almost twice what our officers do, also supports a raise for New York City cops. We know he'd have no direct voice in such matters as a U.S. Senator, but he has promised to use the moral and political power of that high office to help us achieve our aims."
The police union leader also mentioned Lazio's close relationship with Gov. George Pataki "who has been a powerful supporter of police officers and the PBA."
Lynch also cited Lazio's opposition to the creation of a federal monitor for the NYPD. "Although Hillary Rodham Clinton has not made her views known one way or the other on the federal monitor," Lynch said, "the idea is a political creation of the Bill Clinton-Janet Reno Justice Department, and it's not hard to guess how she really feels about this crucial issue."
Lynch added: "We urge all New York City police officers and their friends and families to help make Rick Lazio our next U.S. Senator."
PBA Executive Board members and off-duty cops also attended the press conference.