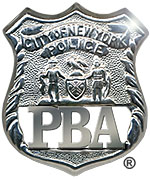 Contact: Joseph Mancini
212-298-9150
PRESS RELEASE
January 3, 2000
---
PBA Halts "Union-Busting" Promotions
In response to an action brought by the Patrolmen's Benevolent Association, a supreme court justice today issued a temporary restraining order preventing the New York City Police Department from implementing its plan to begin promoting hundreds of police officers to the rank of detective specialist this month.
The PBA took the unprecented step of opposing the elevation of some of its members because it maintains the promotions are an attempt by the department to evade an order by the Office of Collective Bargaining last Feb. 4 that stopped the commissioner from awarding "merit bonuses" to selected officers without negotiating terms of the awards with the union.
Today's order, by Supreme Court Justice Stanley Parness, was the first time in recent memory that the 27,000-member union was successful in a case of this nature.
Justice Parness restrained the department from designating officers detective specialists without negotiating with the PBA concerning the criteria and procedures for the designations.
"In trying to force through these promotions, the department has been engaging in union-busting, plain and simple," said PBA President Patrick J. Lynch. "The NYPD's plan is a clear violation of the Office of Collective Bargaining's order and decision last year. We won that one, and we won this action today."
The department's plan would have promoted a few hundred officers to detective specialist this month and as many as 2,000 by the end of the year.