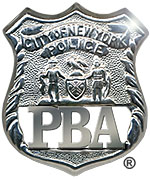 Contact: Joseph Mancini
212-298-9150
PRESS RELEASE
February 9, 2000
---
PBA Victory: Supreme Court Judge Issues Permanent Injunction Blocking "Detective Promotions" for City Cops
In a victory for PBA President Patrick J. Lynch, a supreme court justice today issued a permanent injunction blocking the Police Department from implementing its plan to promote selected police officers to the rank of "detective specialist."
Justice Stanley Parness' four-page written decision agreed with the PBA's position that the plan to promote 2,000 cops to the entry-level detective rank by year's end was "merely a guise to unilaterally award merit increases without negotiating with the PBA."
The decision was the latest episode in a dispute between Police Commissioner Howard Safir and the 27,000-member police union over the department's attempts to reward a limited number of patrol officers with "special assignment" merit increases or detective specialist designations.
The PBA won the first round on Feb. 4, 1999, when the city Board of Collective Bargaining, in response to an improper labor practice petition filed by the PBA, ruled that the department could not award merit increases to officers without negotiating with the union.
After negotiations between the union and the department broke down late last year because the department refused to commit the agreement to writing or institute a grievance procedure, Safir announced the promotion plan and Lynch sued to block the designations, contending that they are illegal unless done through collective bargaining.  Parness issued a temporary restraining order Jan. 3.
"In trying to force through these promotions, the department has been engaging in union-busting, plain and simple," Lynch said at the time. "The NYPD's plan is a clear violation of the Office of Collective Bargaining's order and decision last year."
In today's decision, Parness cited the PBA's observation "that the amount of money allocated by the city to fund the 'detective specialist' promotions is $12 million and the amount allocated for the
'special assignment' program was projected at $11.5 million and both programs were designed to provide additional merit compensation to uniformed patrol officers."
The judge added: "There can be little doubt that [the NYPD's] plan to 'promote' officers to the title of detective specialist is an attempt to award a merit increase and circumvent the order of the BCB, an almost inescapable conclusion upon consideration of the nearly identical amounts to fund the program in the budget, the same number of officers involved, the fact that these promoted detectives will continue as patrolmen with no additional duties and the sudden and unexplained need for an additional 2,000 detectives except as a vehicle to award pay increases."
Lynch said: "The city should take that $12 million and figure out a way to reward all our cops with it."
The decision could affect Mayor Rudolph Giuliani's proposal, announced in his annual budget address Jan. 27, to base all city worker wage increases on a merit-pay system.