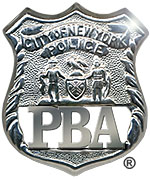 PRESS RELEASE
December 5, 2007
---
Call for hostages to provide impact statements For parole hearing
In an effort to keep a cop-killer in prison for the rest of his life, PBA President Patrick J. Lynch is calling for the hostages taken when the crimes were committed nearly 35 years ago to come forward and deliver victims' impact statements before a special hearing of the state parole board.
When the police union president learned that parole had been approved for Shuaib A. Raheem – who is serving 25-years-to-life for murder, kidnapping, robbery and other charges in the Jan. 19, 1973, killing of Patrolman Stephen Gilroy – he contacted the board requesting that the officer's widow and a retired officer wounded in the incident be given the opportunity to make victims' impact statements.
"Especially without a death penalty in this state, we don't believe that cop-killers should ever again walk the streets in freedom," Lynch said. "And we're going to do everything in our power to see that this one remains behind bars.
"It also should not be forgotten that this man was convicted of kidnapping as well." Lynch added. "He put innocent hostages through a terrifying ordeal, and they should have the chance to tell the parole board what his release would mean to them."
Raheem was one of four avowed Sunni Muslim men who held up a Brooklyn sporting goods store and took 12 hostages. Ptl. Gilroy was killed and two other officers wounded in a 47-hour siege in which emergency service and other officers surrounded the store.
Under parole board regulations, Raheem's scheduled Jan. 3 release has been delayed pending the hearing at which the impact statements will be given.
One of the wounded officers, retired Ptl. Frank Carpentier, will testify at the hearing, describing how he was shot in the leg and then received death threats from unnamed Black Muslims while he was in the hospital recovering from his wounds.
Ptl. Gilroy's widow, Patricia Gilroy, will also testify. "It's been almost 35 years since that day and he is still the love of my life," she says. "I still miss him."
Lynch urged surviving hostages to contact PBA attorney Gregory M. Longworth at 212-964-8038 to indicate their willingness to deliver the victims' impact statements.