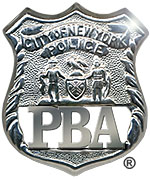 PRESS RELEASE
October 30, 2007
---
NYC sanitation workers earn more than NYC Police Officers
Veteran New York City sanitation workers assigned to household garbage collection earn nearly $9,000 more than veteran police officers who risk their lives fighting crime and terrorism — a situation unprecedented and unparalleled anywhere in the country — PBA president Patrick J. Lynch announced today.
Lynch said:
"New York City sanitation workers do an important and difficult job and they earn every dime the city pays them. But New York City is the only municipality in the nation that pays the people collecting household garbage more than they pay the people protecting communities from crime and terrorism. During the period for which the PBA is seeking a contract, the city advertised $57,392 as the basic maximum pay for veteran sanit workers while the reality is that they earned $68,354 for picking up household waste because of a little known $42 per shift collection and dumping bonus. That is $8,766 more than police officers at top pay that earn $59,588 for risking their lives to keep our city safe.
"Various Mayoral commissions have judged that NYC police officer's pay should be among the highest in the nation. But a system of measuring work that puts police officer's productivity at a clear disadvantage has given us the nation's highest paid sanitation workers and the lowest paid police. Because police work can't be easily quantified, it has no value in the city's eyes. The end result is our officers earn 40% less than other local police and that is a clear violation of the Taylor Law.
"The bottom line is that the NYPD can't keep the police it has because police pay at all levels is not competitive with other police departments, besides being less than that of NYC sanitation workers. Now is the time to fix that inequity.