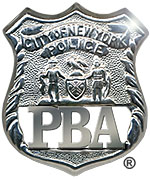 PRESS RELEASE
October 18, 2007
---
PBA files suit challenging mandatory alcohol testing
The Patrolmen's Benevolent Association, whose 24,000 members represent the vast majority of sworn NYPD officers, today filed a constitutional challenge in Manhattan federal court to the NYPD's mandatory alcohol testing for officer involved shootings saying that it is a "violation of NYC police officer's right to be free of unreasonable government searches and seizures" and charging that the policy results in the humiliating and traumatizing testing of police officers without cause, it was announced by PBA president Patrick J. Lynch.
Lynch said:
"Since I became PBA president in 1999, there have been over 500 on duty officer-involved shootings and not a single one where an officer was found unfit for duty.  The mandatory Breathalyzer policy was a knee jerk reaction to community unrest for the sake of political expediency.  There is no reason or justification to subject an officer who legally fires a weapon as trained within the guidelines of department policy to the humiliation and psychological trauma of a mandatory Breathalyzer test.  Trained police professionals and the District Attorney's office investigate every police shooting.  There is simply no cause to implement another layer of unnecessary procedures in the already vigorous investigative process.  
"Good policy is developed as a response to a documented problem after serious consideration and careful analysis.  This is clearly a policy in search of a problem to solve.  We are asking the court to examine the process leading up to the establishment of this wrong-headed policy that presumes our officers to be guilty when they are doing their jobs within the guidelines of NYPD policy and within the confines of the law.  Police officers should, at minimum, enjoy the same constitutional protections as the people they are sworn to protect.  This policy tramples the rights of our officers by denying them the presumption of innocence."